Linda Herrick talks to an Australian who has made French food his passion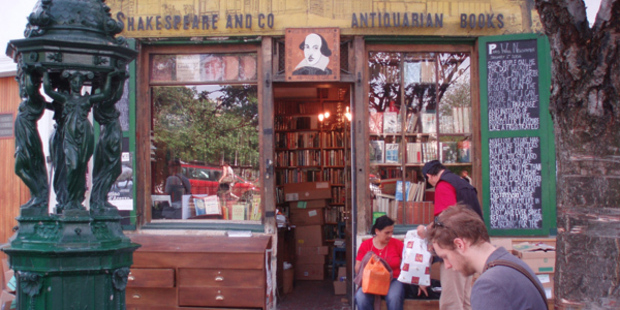 It's easy to spot a first-time tourist in Paris. They can be seen lurking on corners, looking unsure and tentative, scared of straying off the beaten track for fear of getting lost or engulfed by the fiendish Metro.
My single experience of Paris was an unsettling combination of wonder and frustration: the delight of being in such a beautiful city undermined by my inability to access the stories behind its grand gardens, mansions and apartments. It wasn't even a case of merely scratching the surface. I didn't touch the surface.
If only I had arranged a walk with John Baxter, an Australian writer who has lived in Paris since 1990. Apart from working as a journalist, screenwriter and biographer of the likes of Federico Fellini, Stanley Kubrick and Robert De Niro, Baxter is the author of several delightful Paris-based memoirs.
He also takes small groups on literary walks around Paris where he shares the sights and secrets of the city he knows so well, including visits to famous cafes like La Coupole and La Rotonde in Montparnasse, a bar where Ernest Hemingway and F.
Scott Fitzgerald first met, Man Ray's studio and the Luxembourg Gardens and, in the Odeon district, Henry Miller's former home, and the markets where Hemingway shopped for cheese.
The walks end with an aperitif in Baxter's apartment in St-Germain-des-Pres, a building once occupied by famed Shakespeare and Company bookshop owner Sylvia Beach, where she was visited by literary giants James Joyce, the Fitzgeralds, Gertrude Stein and Hemingway.
"My function in life now is to help people who want to know Paris better and stop them feeling lost and lonely," says the avuncular Baxter on the phone from Paris.
But, he adds, when he first moved to Paris from Los Angeles he knew no one at all apart from his French wife (they had dated seven years previously before reuniting in LA; they moved to Paris three weeks later).
"I didn't speak a word of French and I could not have been more isolated. In one of my books I try to explain the loneliness of sitting looking out the window at 4am and thinking, 'What have I done?' The French people, they accept you but they don't embrace you. "With me, it was much easier because I married into a big family and they learned that I could cook. They are all painters and academics and none of them can cook to save their lives. I ended up cooking Christmas dinner for 20 people in my second Christmas in France and that convinced them that I was worth keeping.
"Then our daughter Louise was born, so that was doubly useful, and when I picked up French it became a lot simpler. But I still have to make concessions all the time. It isn't easy. The French are not people who clutch you to their bosom."
Baxter, who says he is a historian in the sense that "I like to know about where I live and what I'm doing", carries that through into his books - which are a seamless mix of anecdotes, culture, history and a very dry wit.
The latest, The Perfect Meal, traces his quest to recreate the great French dishes and cooking techniques that have vanished or are fast disappearing under the weight of globalisation, laziness and the rise of the almighty microwave.
Baxter marks his stand in the first line - "It all began with the pansy in my soup" - and quickly expands into an affectionate critique of the unique mannerisms of French waiting staff, who live by the ethos that service is a privilege - for the customer.
Baxter was dining with his good friend, the writer Rick Gekoski, at the Grand Palais, one of the largest grand historic restaurants in Paris. When Baxter insisted that he had asked for a terrace table, the waitress gave that most French of reactions: a moue (a pursed mouth), followed by a shrug indicating "overwhelming contrary circumstances". There is no French word for shrug.
His first course, allegedly cold asparagus soup, arrived: a tiny mound of mashed peas, anointed by two wafers of asparagus, white foam and a tiny pansy. The meal, he and Gekoski concluded a few hours and a couple of bottles of wine later, had been fine but "just a bit ... well, precious".
"It did seem very tiptoe," he recalls. "The Grand Palais is huge and to be eating a foam soup with a pansy just seemed so silly. It really is a situation like - especially after the second bottle of Bordeaux - that the synapses start to flash and you have these ideas that send you on a project like this."
A couple of days after the dinner, Baxter's culinary project took shape when he bought some earthenware dishes at a brocante (market) in Montmartre, and found a dozen menus from 1911-12 nestling inside.
"When I looked at these menus that I had picked up by chance, I thought, 'Gosh, it's exactly 100 years since these were done.' It turned out I had hardly eaten one of these things because nobody cooked them anymore and that, with the Unesco thing [Unesco had just declared the formal French dinner 'an element of humanity's intangible cultural heritage'], really turned the key."
"The old ways are vanishing," he continues. "Someone sent me an article which went through a number of items intimately associated with French cuisine and life - sausage, hams, certain types of soap supposedly made from olive oil from Marseille.
"The soap is made in Romania and Laguiole steak knives are made in China and so on. It turns out that almost none of these things specifically branded as French are made in France any more."
Baxter's quest begins with his mentor, "Boris", who he describes as a gastronome. "The gourmet likes to eat and would finish a dish but wouldn't ask for more," he explains. "The gourmand would finish the dish and ask for more, while the gastronome would just take a spoonful. Boris - who is actually an amalgam of three people - is the kind of person who is almost forensic in their way of cooking and eating. They will order something and lecture you about it and dissect it on the plate then say, 'Oh, you finish this, I'm not hungry any more."'
Boris leads Baxter to Karl, a notorious former tippler turned teetotal, as part of his search for the perfect aperitif. "Being an Australian puts me in an awkward position when it comes to choosing an aperitif," writes Baxter. "Australia had no distinctive national tipple [except] gullet-numbing iced lager."
Baxter barely sat down before Karl thrust a gasp-inducing drink into his hand. "What the hell is this?"
"Maple syrup schnapps ... what's it like?"
"Well, as the Germans say, 'also works in your cigarette lighter'."
After an hour of research and aperitif tastings at Karl's, Baxter steps unsteadily out into the night, clutching the door frame, his "banquet well and truly launched".
Chapter by amusing chapter, The Perfect Meal introduces an impressive range of food, drink, history and customs, culminating in a feast of roasted oxen in the countryside, a traditional rural event. But we cannot leave without mentioning the "First Catch Fire" section, which delves into the art of the barbecue and an incident from Baxter's dark Australian past.
His determination to serve an eclade - a large quantity of mussels cooked outside in a flaming mound of pine needles - reminded him of his youthful efforts to liven up an barbecue in Sydney by serving a long kebab impaled on a "sword" - a rusty old fencing foil. When it had cooked, his girlfriend dowsed the meat with cheap Aussie brandy, which exploded. As Baxter advanced upon his guests, with flaming sword aloft, crying "coming through", they scattered, screaming. One of them rang the next day. "Best bloody barbie! That sword! F***in' incredible!"
Baxter should have left flaming food alone. His eclade was, literally, an event that "happened so quickly that, later, nobody could agree on what had gone wrong".


• The Perfect Meal (Harper Perennial $24.99) is out now; see johnbaxterparis.com
- VIVA