Let your taste buds run free in Hong Kong - a food destination full of surprises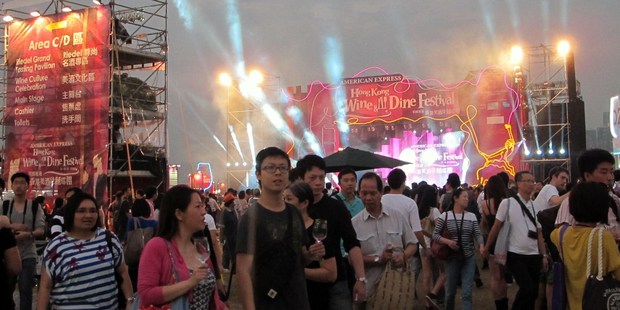 Yum cha, Peking duck, dim sum, Sichuanese, Shanghainese... thanks to the large population of Chinese immigrants in Auckland, these styles of food are now as familiar to us as steak and potatoes. Still, nothing beats trying local food at its point of origin, and the tiny - albeit jam-packed - island of Hong Kong offers a staggering 12,000 restaurants serving everything from the most traditional Cantonese cuisine at outdoor street stalls, to their take on molecular gastronomy, as well as food from every corner of the globe.
STAR POWER
There are more than 200 Michelin-starred restaurants in the Hong Kong/Macau 2012 guide, one of which is cheap enough for anyone to enjoy. Dim sum restaurant Tim Ho Wan is one of the cheapest Michelin-starred restaurants in the world, and is so popular that its unassuming, modest 150-seat Sham Shui Po branch (there are four across Hong Kong) serves 1800-2000 mostly local people each day. Unsurprisingly, there are often hour-long queues.
There are about 25 different dim sum on the menu, which changes every month depending on what's in season. Some items remain constant, though, and the best Viva tried were sweet and lightly crispy barbecue pork buns baked with New Zealand butter, and steamed fresh shrimp dumplings with the thinnest of skins. Also highly recommended are spring rolls filled with egg white, shrimp and vegetables, pan-fried savoury turnip cake, and sticky rice with chicken and Chinese sausage prettily wrapped inside a lotus flower.
For dessert we ordered a double-boiled bird's nest atop a custard cooked with white sugar, ginger, egg white and milk.
Birds' nests are constructed using the saliva of swifts, which is said to contain many nutritional and medical benefits, including a high volume of collagen, so I made sure to clean up every morsel. Our huge feast comes to only HK$234 for two ($37). Chef Kwai Pui Mak attributes his low prices to his high turnover, and says his cooking is not about money - rather, it "comes from the heart". Everything is made to order, so is as fresh as it gets.
This branch of Tim Ho Wan is not exactly easy to find (its large green sign across Fuk Wing St is in Cantonese), but if you have time to eat at only one Hong Kong restaurant, make it this one.
TAKE A FOOD TOUR
You can try a handful of cheap local delicacies all within minutes of each other in Hong Kong Island's Central and Sheung Wan areas. There are usually multiple benefits attached to traditional Chinese food, ranging from health to superstitions or spiritual beliefs.
To get an idea of some of the ingredients of the dishes you're about to sample, take a stroll through the area's historic streets. Shop after shop sells an astonishing array of dried goods - seafood, herbs, birds' nests and vegetables, all of which have a place in Chinese cuisine and medicine.
Queues start forming outside Kau Kee on trendy Gough St before it opens at 12.30pm, and it's generally packed until closing time at 10.30pm.
The restaurant, which began as a roadside stall more than 80 years ago, is best known for its secret recipe tender beef brisket served with e-fu noodles in a flavoursome broth made from Chinese herbs and beef bone.
At two locations in Central (Queen's Rd and Des Voeux Rd) is La Fu Kee, one of the best places to get congee: the porridge made with rice and, at this establishment, fine bones, to be eaten at any hour but especially at breakfast time.
La Fu Kee's signature dish is congee with lean meat cooked with unattractive but surprisingly creamy black fermented duck eggs and plenty of ginger.
As well as being a satisfying meal congee warms your body - something the locals are particularly mindful of in cooler months or when ill.
The best way to experience Hong Kong-style French toast and milk tea is to park on the outdoor stools at Lan Fong Yuen, halfway up steep Gage St.
From there you can peer in to the tea-making area while the tea leaves of your drink are strained through pantyhose to make them smoother.
The French toast is made similarly to Western-style - deep-fried bread in egg with butter and sugar on top, but you can also add coconut-flavoured Malaysian jam and maple syrup for just a little more sweetness. Delicious.
If you have any more room, call into Sun Yuen Hing Kee, in Queen's Rd, which has a huge selection of crispy barbecued meats, from geese and pigeons to suckling pigs and ducks. Or head to Mak's Noodles in Wellington St and try their renowned fish-based noodle soup with its small but succulent prawn and shrimp wontons, which pop in your mouth with all sorts of savoury flavours, aided by the vinegar and chilli applied to taste.
Phew. After all that eating, there's one more stop to make, for a cup of the naturally sweet sugar cane juice at Kung Lee which aids digestion. Now, if only there was a magic juice to create a bottomless stomach...
GRAB A CRAB
Autumn in Hong Kong means Shanghai hairy crabs or mitten crabs are back on the menu, and the locals go mad for their sweet, rich meat, which is thought to have a cooling (yin) effect on the body.
We visited Super Star Seafood Restaurant in Tsim Sha Tsui, Kowloon, to try these hirsute crustaceans, so named for the dense, black furry patches of hair on their largest pincers.
The elaborate place settings, with their sets of plastic gloves, sharp scissors and a crab poker, gave a hint of what was to come.
I could have done with a full apron as well. Hairy crabs are messy.
After using the poker to remove and discard a small jellied bit on the underside, you break and cut the claws to get at their meat, dipping it in black vinegar to intensify its sweetness before eating.
Then you use the snips to cut the crab in half so you can get at the prize inside. The male is considered the more desirable of the two for its bright yellow roe, which has a strong egg yolk flavour, while the female is slightly smaller and has a harder, orange roe.
For HK$365 ($58) each we get a ridiculous amount of food, including three crabs (one female, two male), scallop and prawn soup, sweet, salty Chinese goose sausage and sticky rice, green beans and diced duck kidney, pan-fried veges and scallops, xiao long bao (soup dumplings), and red bean soup for dessert.
This is a must-do local experience, but it's probably better to go with someone who knows what they're doing.
Tip: Try the small cups of 20-year-old sweet rice wine with a salted dried plum at the bottom to wash down all that tucker. The wine is warm, which balances the coolness of the meat.
FESTIVAL TIME
Hong Kong has long been a destination for foodies and it is now making tentative steps into wine-making. Last November marked the fourth year of a month-long festival celebrating its flourishing cuisine scene. Kicking things off was the Hong Kong Wine and Dine Festival, a four-day West Kowloon waterfront showcase of the best local and international fare.
Last year, 20 countries contributed to more than 300 wine and food booths, with two new additions - a small, perfectly formed Sweet Pavilion pairing beautifully made desserts, cakes and pastries with wines, a Spanish Day, and an Italian Street Food Carnival.
It's split into zones and in the central area is a stage featuring a constant flow of entertainment, which gives the festival a real party vibe.
About 100 of the stands serve gourmet food, much of it European, although there are plenty of local delicacies.
Hong Kong's autumn is truffle season and the culinary jewel is hot property at the festival (and especially good paired with a warm, buttered pineapple bun or with scallops in a light, fluffy vol-au-vent ), and there is a lot of seafood - oysters, mussels, chewy abalone (paua), deep-fried fish balls - plus dim sum, noodles, soups ... anything you fancy, really.
One of the most bizarre stands sells small vials of perfume with wine scents.
You can pick up some real wine bargains - a bottle of rich, red Chateau Marquis De Terme (2003), normally selling for HK$900 ($143) was on sale for $370 ($59) - and, best of all, you get to try before you hand over the Benjamins.
It's good to arrive at around dusk (about 6pm) so you can admire that spectacular skyline at both times of the day, and if you're still there at 8pm you'll catch the Symphony of Lights show in Victoria Harbour.
This year, the festival will move to Central on Hong Kong Island in a bid for more space to reflect its growing popularity.
November is a great time of year to visit Hong Kong - temperatures are warm but not too hot and humidity is low, making a mooch around the festival a very pleasant way to spend a few hours indeed.
If you can't make it at the start of November, the rest of the month-long occasion features a raft of events, from wine and foodie tours, to cooking classes and street festivals.
AUTHENTIC IN THE AIR
Even the national carrier Cathay Pacific has hitched its wagon to the gourmet foodie train, with the introduction of signature Chinese dishes to its menus across business, premium economy and economy classes. Taste, authenticity and freshness are key elements of Chinese cuisine, so it was important for Charles Grossrieder, manager of catering services, that the on-board meals also met these criteria.
"Chinese food is extremely important to the local people so we focus on authenticity," he says.
"The meals are mostly Cantonese but we have no objection to adding other Chinese dishes that are popular in Hong Kong to our selection, as long as they have authentic ingredients and flavours."
Traditional dishes, such as the giant braised pork "Lion Head" meatball with preserved vegetable inside (pictured), cooked with traditional Chinese herbs and spices, is available in business class, and the Hong Kong-style curries have proved most popular with passengers.
• Shandelle Battersby travelled to Hong Kong with assistance from Cathay Pacific and the Hong Kong Tourism Board.
- VIVA