More young designers are adding price-conscious labels to their stable - we look at the latest lines for winter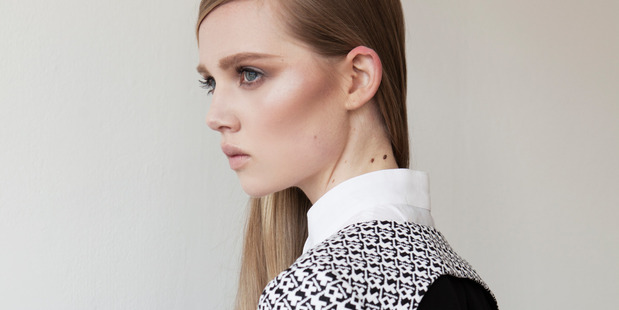 Designer Sara Aspinall has dubbed it the "Training Bra label", a line that helps familiarise a customer with the aesthetic of a designer, at an introductory - read, price-conscious, though not necessarily cheap - price. Also known as bridge lines, sometimes even a diffusion range, designers often describe these secondary labels as their younger lines - the wearable little sister to the more directional main event.
The idea is not exactly new - most international labels have a diffusion line, from T by Alexander Wang to MW By Matthew Williamson, and locally Karen Walker has the Hi There range, a separate, more affordable diffusion line; Kate Sylvester has had the younger Sylvester range for many years; Trelise Cooper's Black Label, launched last year, offers affordable pieces too; and footwear designer Kathryn Wilson launched the smaller and more "broadly affordable" Miss Wilson line in 2011. But as the economic climate affects retail and how much customers are willing to spend on fashion, more and more younger designers are showing business nous by launching their own price-conscious labels.
Dunedin-based Aspinall, designer of the label Company of Strangers, launched Strangelove last year, a line with simpler garments costing no more than $350. There were two main reasons for its launch: an awareness of price point and the fact that some customers would struggle to be able to buy some of the more detailed pieces in the Company of Strangers' collections; and to design more accessible garments that weren't as challenging to the masses as the main line.
But though many cheaper lines are manufactured off-shore - local production is traditionally very expensive - the Strangelove garments are produced locally with a factory in Invercargill which was interested in developing a more affordable range. Aspinall admits that designing with price point in mind is difficult, working with fabrics that are easy to look after and wear - like polyester, which she struggles with - and a much more simple design. This is evolving with each season, and though Strangelove was originally created to be its own standalone brand, Aspinall says it has evolved to be more of a casual diffusion line, or "weekend brand".
Teresa Hodges has various brands under her Blak umbrella, with Blak Luxe, the higher end, fashion-focused line, Blak Basics, offering something simpler, and now Blak Love, a youthful line that marries directional design with price-consciousness. The range also bridges the gap between the traditional seasonal drops of high fashion - autumn/winter; spring/summer - with the faster pace of cheaper fashion, with two to three monthly drops of garments that range from $99 to $249. Hodges has created the line to be sold through a concession within Topshop Oxford Circus, and stores will also sell it here and in Australia.
Australian label Camilla and Marc launched C&M in partnership with Australian department store David Jones last year, a "youthful, price-pointed offering" that is part of a strategy to broaden the brand's customer base. "It's a great injection point for customers to buy into the brand without the commitment of the more expensive items typically featured in a main collection," says Michelle Johnson of Auckland's Mishka Boutique, which stocks the label.
Elsewhere, Wellington-based label Julian Danger has launched Julian Danger Classic for winter, a capsule collection featuring timeless garments, and World continue its "World Famous" capsule collections within a collection - described as "pared-back classic design and thoughtful tailoring at mid-luxury level".
And though there are certainly dangers to adding a newer, cheaper, younger line - the Financial Times noted recently that they carry a risk of diluting the core brand or a dumbing down - the mass, commercial appeal is obvious. For Mishka Boutique's Johnson, the focus is on making sure that a designer's diffusion line ultimately complements the original. "It's important that the style and feel of a collection is different but still maintains the brand's integrity and quality."
- VIVA