Former international party planner Jonathan Rutherfurd Best shares his tips on how to throw a soiree to remember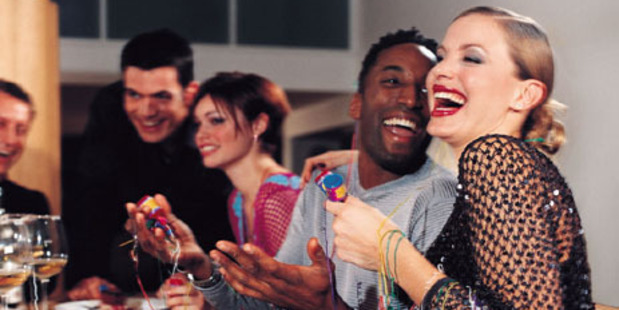 Jonathan Rutherfurd Best is both Kiwi Boy Done Good Abroad and Prodigal Son Returned.
Raised on a remote sheep farm in Taranaki, he made the leap to London and founded a company specialising in bespoke events for clients in the creative, fashion, film, art and charity industries, "designing beautiful and seductive environments" and responsible for some of the most talked-about parties in the world. Clients included royalty, major banks, Louis Vuitton, Prada, Armani, Jo Malone, Topshop, MGM and Universal Pictures.
Now he's back, and with partner Andrew Glenn has thrown open the doors to what's being touted as one of Auckland's chicest destinations, Waiheke Island's The Oyster Inn, all freshly painted white weatherboards, ocean views, sophisticated, yet relaxed, interiors and food and drinks to match.
Running a restaurant, bar, private dining room, beach shop and boutique accommodation with passion and style, Rutherford Best is a good man to know when it comes to organising events for summer.
How would you describe your approach to party planning?
It's always about creating convivial, seductive and creative environments where guests can be swept into another world.
Every good party needs ... A good host!
How do you create the right atmosphere? Lighting, music, great food and drinks.
What are some of your secrets to creating the perfect event?
• If you keep it simple and prepare well in advance you'll enjoy your own party - so many people don't enjoy their own parties.
• Make sure you have lots of ice - have jugs of cocktails made in advance then just add the ice when the doorbell rings. Have a bar set up so people can help themselves or, if you can, hire a barman for the evening who can look after all the drinks while you can attend to the food.
• Don't overcomplicate.
• Serve what you make best.
• Light the house with candles - bright lights will kill any party.
• Make sure you have a great playlist on your iPod so you don't have to worry about music and, as parties are unpredictable, make sure you have some good party tracks if the guests look like they're going to throw a few moves.
How important is the invitation? Invitations are very important and need to impart the tone. A good invite can really get the right crowd, a bad one can just disappear in the bin.
Tips for a great table? I like to set a table in a variety of different ways. Sometimes I mismatch crockery and cutlery, sometimes I keep it very plain. I like gingham at lunch and white linen for dinner. I always use linen napkins, whatever the occasion, even if it's a simple supper or casual lunch or breakfast - the linen napkins just make it that little more special. I've mastered the art of drying napkins at just the right temperature so you don't need to iron them unless it's a truly formal occasion. I like round, square or oval tables, as they're much more convivial. But one long table that seats 20 or more can give the wow factor and be great fun as well.
Tips for food and menus? Always keep the menu simple. Do as much as you can before the guests arrive. Start with shucked oysters that can also be opened before guests arrive. Do a main course that's able to be served at the table. We love spaghetti alle vongole - a simple clam pasta. You have to do it last minute but all the prep can be done before and it takes only a short time to cook. Serve with a great green salad to follow and then a pudding you've made in advance, like a creme caramel.
Favourite music to play? I love to play a variety of different music. I have an iPod created for me that has a lot of different soundscapes. One I particularly like when guests come for a small dinner is entitled Take Me To Paris - all French music, very atmospheric and a little sexy. If it's a drinks party then I play a lot of Brazilian and Latino music, something with a sparkle. What I deplore is loud bass music at a party, where all you hear is a beat but no music. I love live music and sometimes we just have someone play electric jazz or slide guitar. That really creates a great vibe. Music is super-important but you must get the right music for the right crowd.
What drinks do you always have to hand? I always have vodka, lemon juice and mint to hand for our Innkeeper cocktail but I also like lemongrass, which we steep in sugar syrup to add to cocktails or simply add to soda or sparkling water for a delicious quenching drink.
Suggestions for summer parties? Simplicity. I like shellfish and fish as I said - a platter of assorted treasures from the sea is always a winner for me, and can all be done in advance. I love picnics, they're fun and convivial even if it's in your own backyard. Make some home-made lemonade and put rugs on the ground. Make an octopus salad with barley and lots of fresh herbs and lemon juice - so easy to make - and serve at room temperature. This can be made in advance, just drizzle olive on and serve. Serve slices of watermelon for something sweet.

Jonathan's checklist
In decorations? Candles, candles, candles - you just can't go wrong. If it's a day event, jars of wildflowers and gingham tablecloths. At night just use one or two colours - keep it all white or all midnight blue. Buy some light filters, make all the lights in the house blue and play She Wore Blue Velvet and serve oysters and Black Velvet cocktails.
Table arrangements? At The Oyster Inn we have a private dining room called The Pearl, with a beautiful selection of corals and oyster shells that, combined with old glass jars with candles, makes a beautiful table setting.
Food? Platters of oysters with Bloody Mary granita, clams and mussels with lemon aioli, good breads with olive oil, whole crayfish with a home-made mayonnaise, a big green salad.
Drinks? The Innkeeper cocktail we serve at The Oyster Inn is delicious - Absolut vodka, fresh mint steeped in lemon juice, sugar syrup topped with soda. Fresh, crisp and can be made in advance. Or jugs of white wine sangria with cucumber and elderflower.