Angela Casley creates the best scrolls, bread and crumpets to share with friends and family this Easter.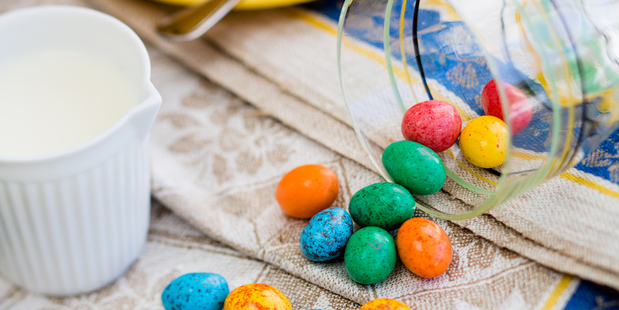 Hot cross buns are traditionally eaten on Good Friday, toasted, with lashings of melted butter. In our home we have been devouring them for weeks as they have been tempting me at my coffee stop most mornings. Who can resist that rich fruity smell?
Easter weekend usually means lots of social gatherings with friends and family, so it is a wonderful opportunity to create and enjoy home-baked treats.
This year, because of my already ample intake of hot cross buns, I thought I'd present my visitors with some other traditional Easter treats. Once you have mastered making dough with yeast, which these recipes all use, the options for creating bread are endless, and it has to be one of the most satisfying things to cook. The smell of the yeast awakes anticipation, and nothing beats the aroma of freshly baked bread.
Each step is important. The process of kneading and rising cannot be hurried. Then the fun part is shaping the dough into plain or more elaborate breads.
Breads are baked at a high temperature so the yeast is killed and its action halted. If your bread is browning too quickly, cover the bread loosely with tinfoil.
This rich Easter Crown is easy to make and best eaten warm, straight from the oven with a good coffee. If you have children who dye eggs for Easter, push three to four into the dough just before cooking to create a colourful crown effect. (Make sure the dye is non-toxic and the eggs are raw.) You can also make sticky buns from the same dough. Simply slice, pack into a tin and cover with a honey glaze before cooking.
One of my all-time favourites is Romanian Easter bread, which comes with a ricotta filling - so delicious it's hard to resist eating it straight from the oven, but this bread will benefit from sitting for 30 minutes. If you choose, a few splashes of rum will add to the flavour and aroma.
When it comes to making today's crumpets, you may want to consider doubling the recipe. When my mother used to make pikelets, they would be devoured as fast as they came out of the frying pan - plain or hot with butter and home-made plum jam. It was always a challenge for mum to get a plate ready for visitors or afternoon tea.
I seem to remember she would hide them in a top cupboard where little fingers couldn't reach (or so she thought!). If you have any crumpets left to serve when your guests arrive, place them under the grill with your favourite toppings before serving.


Recipes:
• Rich Easter crown
• Romanian cozonac with ricotta filling (Easter bread)

- VIVA