Nici Wickes chats to Matt Stone about being environmentally responsible, and a future in which bugs will replace meat on menus.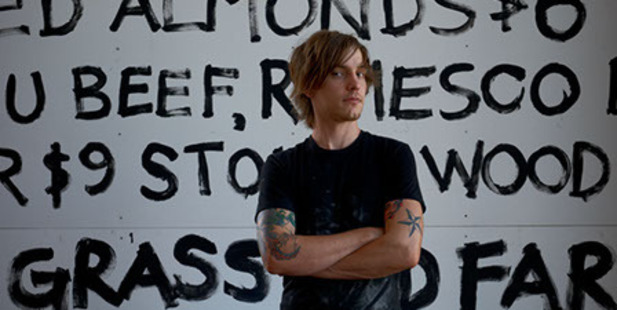 Matt Stone is Australia's eco-warrior chef. He grew up in Margaret River and started working as a chef because it allowed him the flexibility to be able to leave school and indulge his passion . . . for surfing.
Little did he know then that it would spark an obsession with cooking that would take him all the way to the top of the culinary table in Australia, and beyond, and now, by his own admission, he rarely finds the time to surf.
This talented young chef is on a mission to change the way we think about our food. In 2003, he was approached by sustainability legend Joost Bakker to head up Greenhouse in Perth, and since then has gone on to oversee Bakker's Greenhouse by Joost zero-waste cafes and restaurants in Australia, including the incredibly successful Silo in Melbourne's CBD.
He admits meeting Bakker was a career game-changer for him. "Before meeting Joost, sustainability really wasn't high on my priority list. I used to cook so many things in vacuum bags, using hundreds a night. At the time I was convinced that it was by far the best way to cook, but that has all changed and now I am fully committed to preparing fresh, sustainable, locally sourced wholefoods."
Stone can't imagine being involved with anything other than a restaurant that aligns with his own philosophy of being responsible to the environment, as well as to our own health. When I talk to him ahead of his upcoming visit to New Zealand this month for the Taste of Auckland festival, I share with him my alarm when I first ate at the Greenhouse Melbourne pop-up eatery, during one of the Melbourne Food and Wine Festivals, a few years ago.
There I'd innocently ordered rolled oats for breakfast and what arrived was a flower pot of whole oat grains and a hand grinder that was clamped to my table so that I could grind them fresh myself.
"Ha ha, yes, we roll all our oats fresh at Silo because commercially produced rolled oats are steamed for about two hours to increase the shelf life, but it unfortunately kills about three-quarters of the vitamins and nutrients."
It's this attention to detail and intention that has seen him make a name for himself as one of the youngest, brightest stars of progressive cooking. He earned Gourmet Traveller's prestigious Best New Talent Award in 2011 with Greenhouse Perth, which was also awarded the Good Food Guide's Best New Restaurant for 2011 under his stewardship.
I ask him what else he sees as the future if the food industry is to become more sustainable.
"I really hope it's eating more insects, bugs, weeds and wild foods. I'd love to see less meat and fish on menus. It's key to a sustainable food future. Cafes and restaurants wanting to head towards being zero-waste can start by only taking deliveries from suppliers in returnable crates, jars, tubs and vats. They can compost their organic waste because currently one-third of the world's landfill is organic waste, while we use over one-third of the world's natural gas to make fertiliser. And I'd like to see restaurants and bars changing to water, beer, wine and cider in kegs, not bottles. These simple things would all mean a huge decrease in waste."
• Matt Stone appears at the Taste of Auckland festival, November 14-17, at Victoria Park. For tickets and information, go to tasteofauckland.co.nz.


- VIVA