Craggy Range's Terroir has just been included in the list of top 20 winery restaurants in the world. Fiona Ralph talks to head chef Leyton Ashley about its menu and its winning, home-grown ways.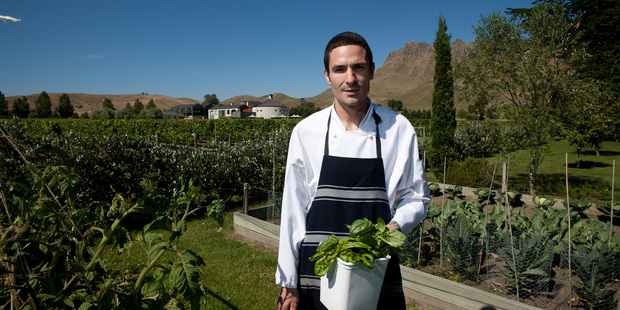 To be one of the world's top winery restaurants you need the perfect mix of ingredients. Exquisite flavours, an excellent team, undeniable atmosphere and a unique viewpoint. More than anything, though, you need passion, something which Leyton Ashley possesses by the bucketload. As head chef for Hawkes Bay's Terroir at Craggy Range, Ashley is a key force behind the restaurant's locally sourced and "foraged" philosophy, which has just helped it earn 14th place in New York publication The Daily Meal's list of 20 Best Winery Restaurants Around the World.
Framed by Te Mata Peak, and set throughout Craggy Range's impressive grounds, are Terroir's signature gardens: abundant plantings of vegetables, flowers and herbs. Olive, fruit and nut trees are weighty with forthcoming harvests while bees diligently tinker on the restaurant's honeycomb. The uninitiated might admire the lush gardens and trickling streams, not realising that the leafy greens growing in the (frequently tested) water and the delicate flowers in the beds are destined for their plate.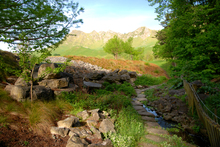 Ashley speaks to me from his favourite spot, the wet garden, where a waterfall delicately flows over lime rocks, giving life to the Vietnamese mint and watercress growing here.
The menus at Terroir (the name means the effect of the earth, the soil and environment on produce) are built around the home grown as well as around the region's bounty - locally sourced seafood, venison and wagyu beef. Even the seeds which feed the garden are from an organic grower down the road, Ashley says.
"We have an amazing organic vegetable garden which is looked after and run by us. This is where we bring the Terroir ethos into our food and our menu. Half of our produce is coming out of the garden, which is a real achievement and I think the customers really appreciate that, too."
Of course, being a winery restaurant, the wine plays a significant part as well. "We use a lot of wine in our cooking because that is obviously a real added bonus, and we certainly spend a bit of time matching everything. Sometimes we will adjust a dish slightly to work with one of our wines which we are showcasing, but generally we just design a menu that's classic, and by classic I mean based on modern French country with great New Zealand produce."
In a vivid example of the produce that fills the restaurant's menu, Ashley's signature dish, the Terroir Forage, displays the changing flavours and textures from the grounds.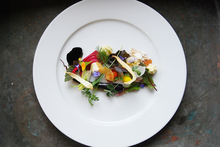 "The exciting thing is that it will evolve over the season, so early in summer it might include earlier plantings such as preserved fruit. It's a really playful dish, quite challenging in that it changes every day, along with the wine match." Ashley explains that it could involve up to 20 or 30 different ingredients and cooking methods.
His interest in foraging was cemented in a Tahitian restaurant, working under an eccentric French chef. "It's always stuck with me with this one dish which was poisson cru, a raw fish salad. Kitchen hands would pick coconuts off the beach and then husk them, grate and then squeeze out fresh coconut milk, and then a fisherman would walk up the beach to the back door of the kitchen with a 150kg yellowfin tuna. You would jump on to that with the chefs and fillet it, and then there would be fresh limes dropping everywhere so you'd pick those up and squeeze them into a bowl and mix it up. Just the most amazing, uber-fresh flavours going on. It was the best of everything around and it all went together and made one of my favourite dishes of all time."
Ashley brings this French Polynesian influence into Terroir's French fare through the seafood offerings, of which oysters will feature for the first time this summer. Other menu highlights include the Poached rose veal, tuna mayonnaise, capers, lemon and fried shallot; Pink roasted Merino lamb, heirloom carrots, spinach and anchoide; and mouth-watering desserts including the Lemon-thyme pudding, meringue, lime curd and lemon sable.
Having grown up in Wellington, he spent much of his early career in the capital and in Perth, but is now happily ensconced with his family in the Hawkes Bay region, revelling in its bounty of fresh produce."There's not much coming in a bag or a box, it's all right here."
A highlight for the coming season are the 12 varieties and 80 heirloom tomato plants in the Terroir garden. "Towards the end of summer when they are all ready, we do a really simple, nice, mixed heirloom tomato salad with buffalo mozzarella and fresh basil, which is planted right next to the tomatoes. We toss it with olive oil which we make as well. We bring all those elements together - it's super local, super fresh, and gives us a good sense of purpose. It keeps us in tune with the seasons."


This year's Hawkes Bay Food and Wine Classic festival will be launched at Craggy Range on November 1, and will run until November 10. For tickets and full programme visit fawc.co.nz


- VIVA