For the full interview, download the Viva iPad app, free now at appstore.com/vivamagazinenz.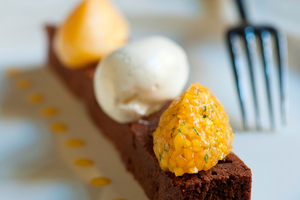 Leading chefs from four of the country's top luxury lodges promise there will be no temper outbursts, only superlative food, when they share the kitchen next month to create an intimate lunch for Hawkes Bay's Food and Wine Classic.
Unless you stay there, it's not often you have the chance to dine at one of the country's top luxury lodges. Their chefs may have come from acclaimed international restaurants and hotels but what's on the menu in a lodge is more individual, served to a fortunate few.
All that is about to change (albeit briefly) when four talented chefs get together in the kitchen at The Farm at Cape Kidnappers on November 9 to create a long lunch as part of this year's Hawkes Bay Food and Wine Classic. Each will bring his signature dishes to the event, showcasing produce from his region and the lodge he represents.
Dale Gartland, group executive chef of Kauri Cliffs, The Farm and Matakauri Lodges, is host, sharing the limelight with executive chefs Jimmy McIntyre from Christchurch's Otahuna Lodge, Paul Froggatt of Huka Lodge and James Stapley of Whare Kea Lodge.
All the lodges belong to the Relais & Chateaux group, a collection of intimate hotels and restaurants worldwide with an emphasis on cuisine. Its chefs are among the most awarded, from Tetsuya's in Sydney to Thomas Keller at The French Laundry in California and Michel Roux at The Waterside Inn.
The Hawkes Bay lunch is limited to 60 guests and there's a cooking demonstration for 25 beforehand. See below for details. Meanwhile, the chefs talk to Viva about the day and what's inspiring them now.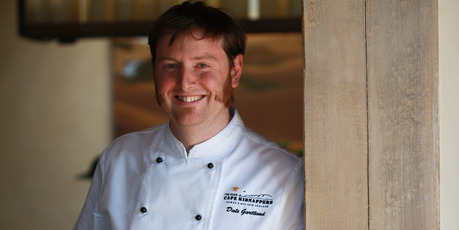 DALE GARTLAND, Group executive chef Kauri Cliffs, The Farm at Cape Kidnappers and Matakauri Lodge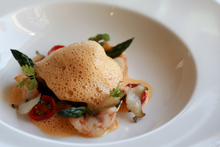 Have you shared your kitchen with three chefs before?
I have been lucky enough to share a kitchen at Cape Kidnappers with Heston Blumenthal and Thomas Keller.
Are temper outbursts likely?
Not really - we are all professional enough.
Will each chef come laden with special ingredients from his region?
Each region will be represented and reflect what the chefs are serving in their respective lodges.
Was it tricky formulating the menu, given that each chef is making his signature dish?
The menu is still a work in progress. I know James will be starting us off with a salmon dish and Jimmy will have whitebait and asparagus. We will look at a dessert using ingredients from our own garden.
Tell us about the pre-lunch demonstration.
We will show different techniques and what we do in our respective lodges, and also demonstrate food the guests can do at home.
You are English, previously cooking at Gidleigh Park restaurant in Devon. Paul Froggatt cooked there, too. Did your paths cross?
Yes, we worked together there, so I have known Paul for years. Great to see him here.
What are your three must-have ingredients?
I am a sucker for butter - a little bit here and there to finish a dish is great. You can do a lot with the humble onion. Does coffee count? I need a cup of coffee to think and work!
What are you excited about, food-wise, now?
Getting ready for spring/summer; all the berries, stonefruits, asparagus. Nothing beats the changing of a season.
Last month you were a guest chef at the Hong Kong Country Club. Did you bring a Kiwi or British touch to the menu?
I have been here for over 10 years now and regard New Zealand as my home, so the menu was themed around the great meat and seafood we have and what we cook in our lodges. Some guests from the New Zealand Consulate came in for dinner and loved to have a taste of home for one night.
What do you enjoy about cooking in a lodge rather than a restaurant?
Every day is different. It does not matter how ready you think you are, there is always going to be a curve ball, from random picnic requests to having to prepare a dish that a guest had two nights ago in the middle of a 40-cover service, to the rain cancelling a summer barbecue.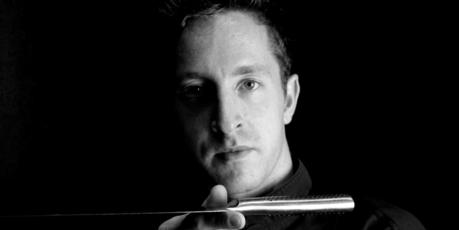 PAUL FROGGATT, Huka Lodge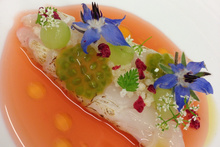 How long have you been in New Zealand and at Huka Lodge?
I arrived one month ago and am now settling my family into our new life.
What are your first impressions of the food scene in New Zealand?
Very fresh local produce that is seasonal, unlike in Singapore or Hong Kong where most produce can be acquired throughout the year.
What's the appeal of running the kitchen in a lodge?
I am able to be as creative as I can and I'm able to cook for the guests on a more personal basis. I love the idea of being in a small town where I know the farmers and growers so I have more control over quality.
What will be your contribution to the Hawkes Bay lunch?
I will be doing the main course, slow-roasted New Zealand lamb with cucumber, barbecued red peppers, hung yoghurt and a tomato lamb broth. It will be on the menu at Huka Lodge.
Your wife was born in Singapore. Do you eat much Asian food at home and has your time in the East inspired your cooking?
Yes, I love Asian food, especially Chinese and Japanese. My time in Singapore and Hong Kong has definitely widened my exposure towards Asian flavours.
What are your three must-have ingredients?
Vinegars, fresh local vegetables, butter.
What are you excited about, food-wise, now?
Finding local growers, such as the fantastic white asparagus producer we've found in the Taupo area. I'll also be using a lot of Taupo beef. My wife's home cooking excites me, too.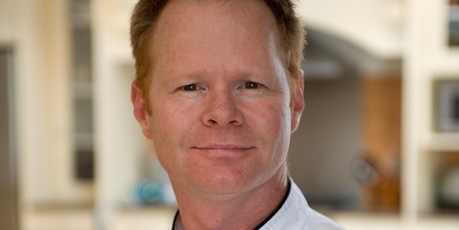 JIMMY MCINTYRE McIntyre, Otahuna Lodge


You are the only Kiwi chef in the line-up. Are you fearing a British invasion?
No, not at all! I am very proud to be the only Kiwi, although I am also humbled to be working alongside three of New Zealand's most talented and respected chefs.
What are you making for the lunch?
I have created a simple whitebait salad; fresh West Coast whitebait sauteed with Otahuna extra virgin olive oil (from our neighbours at Longueville), asparagus, pickled lemon and microgreens.
Otahuna sounds like a garden of Eden: fruit and nut trees, a huge vegetable garden, herbs and mushrooms. What do you look forward to harvesting most?
Porcini mushroom season is always special. They usually start popping up mid-February. Every month there is something else ready to harvest and I am always looking forward to a new ingredient. At the moment it is globe artichokes, asparagus, microherbs and oyster mushrooms cultivated from our mushroom house that herald the arrival of spring.
So is the menu at Otahuna very plant-driven?
Vegetables and fruit are the building blocks of my menus. It is easy to add or remove a protein like meat, seafood or cheese, according to guests' requirements.
You have cooked in many countries. What is your favourite cuisine?
As a general cooking style, I love good, authentic Italian and Mediterranean. I am passionate about Asian possibilities.
If you were forced to choose, what are your three must-have ingredients?
Good salt and freshly ground black pepper (that's one!), olive oil, fresh herbs and lemons. Sorry, that's four!
What are you excited about, food-wise, now?
I just love it when chefs cook dishes I have never tried before.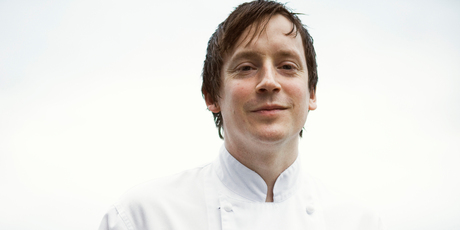 JAMES STAPLEY, Whare Kea Lodge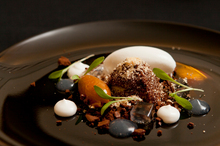 There seems to be an influx of British chefs here. Is that a comfort to you, given that you are British and married to a Kiwi?
New Zealand and England are very similar in lots of ways and I found it to be an easy transition.
What will you be making for the lunch?
I am making a 40C salmon dish as an entree. It is something I regularly do at Whare Kea and is always a favourite with the guests.
Your cooking has been described as 'clean': what does this mean?
Not overcomplicated on the palate and each ingredient is on the plate for a reason. I try to use very little butter, cream and thick sauces.
Do you still visit the local markets yourself?
I do all the shopping for the lodge every day. We have a good small farmers' market in Wanaka. Plus I use a lot of local artisan suppliers, too, for meat, fish and shellfish.
Has your cooking style changed since you came to New Zealand?
Whare Kea has allowed me to experiment more. Cooking for smaller numbers allows me to put dishes on the menu that I could never put on in a busier restaurant.

If you were forced to choose, what are your three must-have ingredients?
Good fresh free-range eggs, Maldon sea salt and really good extra virgin olive oil.
What are you excited about, food-wise now?
I love to visit restaurants and see what other chefs are doing around the world.


For the full interview, download the Viva iPad app, free now at appstore.com/vivamagazinenz.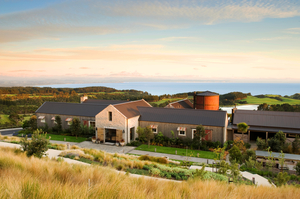 Four-course lunch, with two matched wines and a glass of Pommery Champagne, $150 per person. Cooking demonstration with glass of Pommery Champagne, followed by lunch with two matched wines and recipes, $230 per person. For details, phone The Farm at Cape Kidnappers on (06) 8751900 or visit www.capekidnappers.com


- VIVA