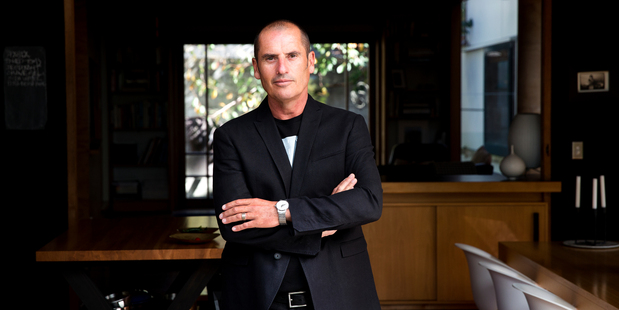 Lance Herbst is one-half of the architectural dynamo duo that is Herbst Architects. Together with his wife Nicky, the South African-born couple are renowned for their architectural vernacular inspired by the classic Kiwi bach. Herbst has designed and built a few iconic specimens found on Great Barrier Island, a place the couple love to escape to with their own fabulous bach on Medlands, the island's best beach.
No longer just designing beach baches, the Herbsts have several larger scale homes and other projects under way. A 2011 Piha home, Under Pohutukawa (below), won numerous awards and caught the eye of Monocle magazine, which published a multi-page feature of it. With 15 New Zealand Institute of Architects awards under his belt, Herbst also sits on the Auckland City Urban Design Panel. His iconic designs are destined to be the classics of tomorrow - bold but unpretentious, dramatic yet practical.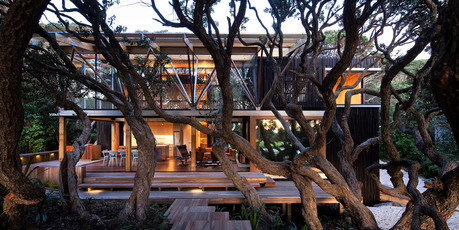 CLOTHES
What are you wearing?
Shoes: Mostly jandals in the summer, otherwise Kenzo or Demeulemeester boots at the moment.
I also am waiting for winter, to break in a pair of Wolverine "1000 Mile" logger boots that I got in New York last year.
Shirt: Just generic white cotton shirts in the office generally, otherwise Zambesi and Margiela for more structured shirts.
Jeans: G-Star.
Blazer: A Gubb & Mackie linen blazer that I have had for years.
Sunglasses: Moscot.
Underwear: On a need-to-know basis.
Luggage: Tumi day bag, Filson carry all.
Trainers: Chucks or Dunlop Green Flash.
Wallet: Comme des Garcons.


FOOD
Cuisine: Japanese.
Restaurant: I think that the most interesting restaurant in town at the moment is Orphans Kitchen in Ponsonby.
Bar: Ponsonby Social Club.
Cafe: If I have to name one in a town of world-class cafes, it would be Bambina for their scrambled eggs.


SPORT
Exercise: Run, swim.
Sport: Surfing.
Snowboard or ski? Snowboard.

GROOMING
Perfume: Black Comme des Garcons.
Shampoo: Has unfortunately become surplus to requirements.


FASHION
Designer: I admire the work of Issey Miyake for its structural formality and texture, not that I am able to wear any of it. Costume National seems to be the most consistent for things that I can wear.
Work clothes - office smart or office casual? Somewhere between Google campus and LA Law.
Store: Wunderkammer. And I miss the loss of a very interesting store called Croquis that showcased young Chinese designers.
Online store: I struggle with the idea of buying clothes without trying them on.
Swim shorts or Speedos? Board shorts.


ARCHITECTURE
Local treasure: The Auckland City Council administration building by Tibor Donner, which our council seems to be lining up for demolition, which would be an uncharacteristically ignorant thing to do for a council that seems to be getting a lot of things right of late. And the house that we are lucky enough to live in, by Mitchell Stout, built in the 1980s.
Local eyesore: The apartment building called Phoenix Gardens in Grafton makes me wince every time I see it. The additions to the Parnell Railway Station are also seriously offensive.
Favourite architect (past): The cliche of Le Corbusier, and the late Roelof Uytenbogaardt who led the architecture school that I attended and who did some seminal work in Cape Town.
Favourite architect (present): Peter Zumthor, and closer to home Peter Stutchbury in Sydney.


- VIVA