Bring a touch of indulgence to your morning shower with these skin-loving body washes.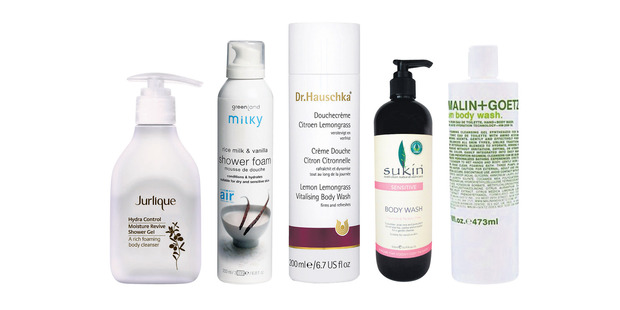 As with face cleanser, body wash is the type of beauty product most of us tend not to be too fussy about. Provided it does the job and smells okay, we're happy enough to wash whatever down the drain.
Except for special occasion use, most body wash is bought from the supermarket and usually has an aroma with unisex appeal, citrus being especially popular. (Even those with sensitive skins can be catered for off the shelf. Just remember to look for lines that maintain a healthy pH balance. Soap, fragrance and colourant free is a good start.)
Beyond the basics, however, there's a growing range of products that take a more indulgent approach to the everyday ritual of showering.
Leaving aside the companion products to fragrances that are usually bought as gifts or treats, the emphasis in wish-list washes is for ingredients with sensory appeal or added skincare benefits. Here are a few, but if your budget doesn't allow for double-dipping, stick to the basics and pep-up post-shower with a touch of perfumed body lotion or oil.
1. Jurlique 250ml Hydra Control Moisture Revive Shower Gel - $38
A desert lime plant native to Australia is used to give this Adelaide-based, but internationally known, natural skincare company's new Hydra Control body range a point of difference. It is high in antioxidants and helps impart a fresh citrus aroma to this shower gel, matching body scrub, body lotion and an oil mist, all designed to boost skin's moisture-retention levels. The shower gel looks liquid, but foams up without harsh detergent-style ingredients. Sponge it on to make it last longer.
From department stores and selected pharmacies.
2. Greenland 200ml Milky Shower Foam - $32
Comes out of an air-propelled nozzle just like shave foam, but with a strong vanilla aroma, making it an interesting way to wash. This unusual Dutch-made product contains rice milk, the proteins of which are said to moisturise and soften skin.
From the newly rebranded Apotheka, 16 Osborne St, Newmarket, or see glamorpusscosmetics.co.nz.
3. Dr Hauschka 200ml Lemon Lemongrass Vitalising Body Wash - $29
This is one of four reformulated Dr Hauschka body washes, each of which has its own creamy aromatic quality. The Lemon Lemongrass combination is designed to firm and refresh; lavender and sandalwood sooth and relax; rose harmonises and nourishes and almond calms and balances.
The essential oil fragrances were created by the German biodynamic skincare company's own perfumer to layer with its body moisturisers. They also feature in body oils and bath essences.
From selected pharmacies, department and health stores. See drhauschka.co.nz.
4. Sukin 500ml Sensitive Soap-Free Body Wash - $17.99
From a mini range for sensitive skins, this clear gel-type wash won't dry you out, thanks to aloe and chamomile extracts. There's a matching Sukin Sensitive body lotion and three facial products from this well-priced Australian natural skincare company.
From Farmers, selected pharmacies and health stores.
5. Malin+Goetz 473ml Rum Body Wash - $68
Man-friendly, bumper-sized foaming selection with a warm aroma (thanks to a dash of Rum Tonic eau de toilette) in a hydrating wash, free of artificial colour. This boutique, botanically inspired US company makes body products with unisex appeal, so if rum isn't your favourite tipple try the similarly packaged, but smaller-sized, Bergamot wash.
From Mecca Cosmetica stores or meccacosmetica.co.nz.
- VIVA