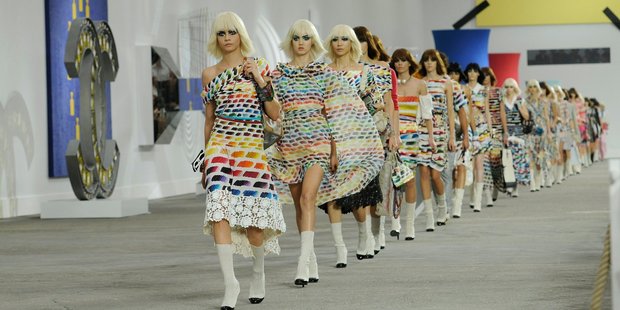 Which business hypes objects of exquisite beauty as status symbols, then sells them to the highest-paying offshore yahoo to cloister unseen on his superyacht? And just as crassly - but even more cynically - which business fetishes dross as genius, dismisses the opinion of anyone who doesn't pretend to get it - and then sells that to the highest bidder too?
OK, that might sound a bit close to the bone to anyone working for fashion's more mercenary labels. But yesterday's epically presented, highly entertaining Chanel show was about two things: showing off really spectacular clothes, and (perhaps inadvertently) shining a disobliging light on the art market.
Instead of its usual enormous mise-en-scene, Team Chanel constructed a gallery for this spring show that rivalled White Cube in London's Bermondsey for length. Around it were scattered 70 or so "works of art" - rustled up by Chanel's designer Karl Lagerfeld - which nabbed the contemporary artist's language of vitrines, silkscreens and latrines, then Chanel-ified it.
The sly homages to Kandinsky, Duchamp and Koons included a retro robot whose torso was a huge bottle of No.5, a naked dummy lying above a mirror that revealed a strategically placed flower when you peeked, a Ladies' WC sign that was given the hat-and-bag silhouette of Coco herself, and the house's conjoined C logo remixed on titanic canvasses and wall-mounted installations of pearl. Much of it was up there with what you'd see at Frieze Art Fair or the Venice Biennale. It made the Turner Prize look like, well, the Turner Prize.
Then came the clothes, presented on enough bewigged models to fill a private view at the Gagosian gallery. These had plenty of in-your-face artistry to them too; blooming chiffon dresses had a palette's worth of thick paint strokes daubed on to them, a grey denim finish was soft-stencilled on to a backless smock and a Chanel suit, and a smooth patent handbag was illustrated with the quilted finish of the Chanel 2.55 bag - a trompe l'oeil double It bag. Some models even carried quilted portfolios like (loaded) art students, and the show's solitary male model shouldered a Chanel backpack from which jutted two (unused) paintbrushes.
Once the painting references were stripped away, this was a particularly good Chanel show. A pale cream boucle jacket with mid-length flared sleeves was a five-star piece. That take on the Chanel suit, white with a black trim, transformed it into an wearable tunic-and-trousers combination. The house boucle was shredded, dyed pink and used to fringe some dark trousers that were topped with a youthful matching-pink, cropped jacket. The tweed skirt was stretched to maximum yet kept its form, and looked good. Deeply frivolous but fun accessories included high heels with pre-attached socks and a choker that climaxed with two huge faux pearls resting on the inside of each clavicle.
Maybe Lagerfeld wasn't trying to lampoon the art world. But Chanel's choice of soundtrack - Jay Z's Picasso Baby - which compares Francis Bacon to turkey bacon and rhymes "Rothko" with "brothel", as it recounts the art-collecting ambitions of a high-rolling drug dealer - couldn't but make you think he might be. Either way, these clothes were must-see.
See runway highlights from the show: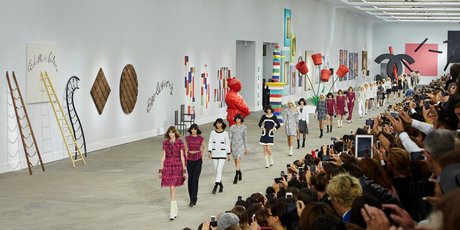 - The Daily Telegraph