Can the New Zealand fashion industry learn from the British Fashion Council, a non-profit trade group for fashion designers headed by the dynamic Natalie Massenet who is determined critical acclaim for UK designers must be matched by good business practice?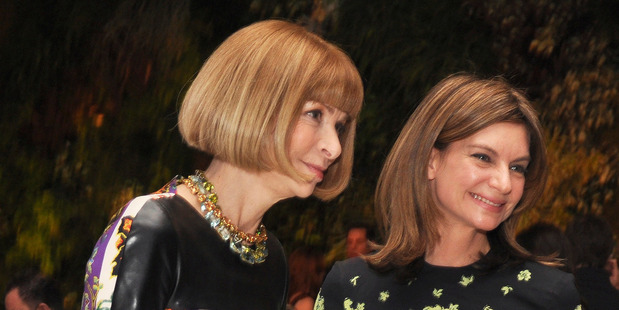 A news report in Vogue about London Fashion Week gave Natalie Massenet huge credit for putting London back on the fashion map.
"A decade ago, London Fashion Week was just a tearaway little sister to three more established elders," ran last week's piece, referring to Paris, Milan and New York. Now we have "a fairer share of the global limelight".
As chairman of the British Fashion Council from the beginning of this year, Massenet, 48, has boosted London's reputation. Earlier this month she launched London Fashion Week with an impassioned open letter: "Dear London, British fashion is a serious business.
The British fashion industry is worth £21 billion to the UK economy and employs 819,000 people across the country. With your help, we would like to see these numbers rise for the good of our industry, our talented designers and our reputation worldwide."
Her aim is not for shoppers to come to London or even for designers to show there.
It's a global message: for London to be to fashion what Silicon Valley is to technology. "It's undisputed that we have the most dynamic, creative designers here," she told Vogue, "but we haven't championed our industry as a business. Fashion is bigger here than the car industry. It needs to be celebrated as such."
She has been rewarded with a thumbs-up from the Economist, where she is seen as part of "a wider effort to bring a businesslike approach to British fashion" where previously "a tendency to focus on art over business has meant that too many designers have failed to make the most of their critical acclaim".
British designer fashion has grown 20 per cent in the past decade. Fashion employs more people than any creative industry in Britain. With Massenet as a figurehead, these messages are getting out and making a difference. At the British Fashion Council, she heads a voluntary team of big hitters from the industry, including influential commentator Sarah Mower, Google's director of retail, Peter Fitzgerald, and execs from Jimmy Choo and Anya Hindmarch.
She says: "We're going to ensure 'business' isn't a dirty word in fashion. We want to make people dream of working in an industry that isn't fluffy. It's an amazing way to earn a living and create jobs based on creativity."
Natalie Massenet is fashion's favourite self-made success story.
She started her career at Women's Wear Daily in 1993 at 27 before moving to Tatler a few years later, as assistant to the celebrated Isabella Blow.
In 1998, she left to go freelance and set up Net-a-Porter, the first online sales portal for designer clothes, launched in 2000. In April 2010, she sold the company to Swiss luxury goods group Richemont for an estimated £50 million. She remains as executive chairman.
Her then-husband, investment banker Arnaud Massenet, helped her to raise £1.2 million in startup costs and the site launched from their flat in Chelsea. Massenet was pregnant with her first child and the signature Net-a-Porter black delivery boxes were stacked up in the bath. Her vision was simple: she imagined being able to "click" on an outfit in a magazine and buy it. "People always say to me, 'You've really strived to redefine retail.'
But the reality is, I wanted to redefine magazines." When she first envisaged Net-a-Porter, the idea was ridiculed. Who would want to buy clothes online, especially very expensive ones? How would buyers know the clothes would fit?
Meetings with designers and investors would start positive and suddenly turn negative when they realised that there was no actual shop. Though you need to have connections at a certain level to raise £1.2 million, you also have to have guts of steel when many people are telling you that what you are doing is a complete waste of time.
By 2001, Massenet had convinced Roland Mouret to sell his first collection on Net-a-Porter. By 2004, the company was in profit - and won best shop at the British Fashion awards. Now the site features more than 350 designers, 2 million people log into the site every week and their average spend is £500. In recent years, it has expanded into menswear with Mr Porter in 2011 and a discount designer site, The Outnet, in 2009. Next stop? Beauty products.
Massenet is rarely interviewed. And, in spite of her glossy looks, she has been careful not to align herself with businesswomen and designers who make themselves their brand by being photographed as often as possible.
This is no easy feat in fashion where you are expected to be as glamorous and covetable as whatever you're selling and to display this fact at every opportunity. Massenet has managed instead to carve herself a reputation as a serious player: the glamour is a useful footnote to her business acumen.
When she does play her trump card (she used to be a model), the results are spectacular: last year she was photographed for Vanity Fair in a bright pink, billowing Giambattista Valli gown, posing on a conveyor belt in Net-a-Porter's 250,000sq ft distribution centre in New Jersey.
On her Instagram site, a "My Story So Far" storyboard shows her as a serious baby with the thought bubble: "Content and commerce? Hmmm."
As well as glossy retro pictures of a glamorous upbringing and her early career, the storyboard reveals a love for black coffee and ballgowns with swishy skirts, books about "creative visualisation" and a passion for Oprah-style mottoes: "There is no i in team"; "Be nice to everyone you work with. They will undoubtedly turn up in unexpected places in your future"; "Just because something doesn't exist doesn't mean it won't work."
Massenet was born in Los Angeles. Her father, Bob Rooney, was a journalist and her mother, Barbara Jones, had modelled for Chanel. Her early childhood was spent in Paris, with a stint in Madrid when her father was working as a foreign correspondent. When she was 11, her parents divorced and she stayed in LA with her father.
She was disappointed not to get into Princeton, especially when she found out Brooke Shields was going to be a freshman that year. "The lesson is, you don't always get what you want. Life may have other more suitable plans for you." Her first job after high school was in a men's clothing shop. She would drive there every day, giving a lift to her friend Lenny Kravitz. She attended the University of California, studying English lit.
After university, she spent a year in Japan, as a model and a stylist. Massenet always had ideas for businesses: before she launched Net-a-Porter, she listened to investors who told her a chain of coffee stores was a terrible idea. This was just before Starbucks appeared.
The push came when she was working at Tatler: "I was so naive. I picked up a brochure from Barclays Bank that said, 'Are you an entrepreneur?' and took it home with me. Then my husband explained the basics of capitalism." She must have been listening. Now Massenet is loved by designers, entrepreneurs and tech-heads alike.
Erdem: "She is a visionary."
Christopher Kane: "Not only does she have this incredible global credibility, but she is also available in person when you want to ask advice."
She is known for being un-diva-ish and quirky: she enjoys a margarita, sneezes when she eats mints and cuts her own hair at her desk. Slim and slight (her mother was a stand-in for Sophia Loren), she has joked that she wants to look like a cross between Audrey Hepburn and Jackie Kennedy but has ended up looking like a cross between Keith Richards and Michael Jackson.
Last year, her friend and one-time Tatler colleague Kate Reardon wrote in Vanity Fair that Massenet has "worked her backside off" to get what she's got. Perhaps her biggest achievement? Ignoring working mother guilt. "I don't make homemade cupcakes for cupcake day. I pick them up in the store and it's heartbreaking when you hear that some mom stayed up all night baking."


The Massenet file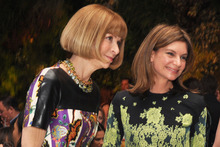 Born: Los Angeles, May 13, 1965 to journalist Bob Rooney and model Barbara Jones. Raised in Paris before moving back to Los Angeles in 1976 to live with her father. Met investment banker Arnaud Massenet in 1997. Now separated. Two daughters: Isabella and Ava.
Best of times: 2009: awarded the MBE (Member of the British Empire). 2010: luxury goods conglomerate buys Net-a-Porter for £50 million. 2013: voted one of the most powerful 100 women in the UK by BBC radio magazine programme Woman's Hour.
Worst of times: Investors and designers struggled to understand the idea of online shopping in 1999. "They'd listen and nod and then afterwards they'd say, 'Just tell me one more thing: where is your store?"'
What she says: "I realised at a certain point that if I was going to have the kind of life that I fantasised about, I needed to get my act together. No one was going to do it for me. I'm still like that."
What others say: Designer Christopher Kane: "Natalie is so talented. She's built a brand and a great team, and you can feel her amazing energy and personality in everything they do."
- Observer