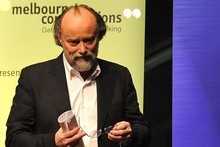 Fans of controversial artist Bill Henson say those offended by his work in the past are likely to be similarly disturbed by his latest exhibition.
The photographic exhibition which opened in Melbourne on Wednesday night showcased 10 nudes, two landscapes and an interior.
Crowds outside the exhibition, closed to media on opening night, were full of praise for the work, which is again said to feature a nude adolescent.
"If you've had a problem with Bill in the past then you still will," fan Marco Gjergja said.
The works are believed to be similar to Henson's 2008 exhibition in Sydney which was shut down by police amid complaints over its photos of nude teenagers.
No charges were laid against Henson, whose work was labelled by then prime minister Kevin Rudd as "revolting".
Melbourne businessman Peter Barro described the new works as outstanding.
"He's gone into the depths of his creativity again," Mr Barro said.
"I think Melbourne should create its own museum for Bill Henson. He's probably the only international artist in Australia at the moment that's at the top of the tree."
Mr Barro said the new exhibition had the potential to offend some sections of the Australian public.
Another fan, who did not want to be named, said the latest collection was reflective of Henson's early work.
"It harks back to the early 80s of crowd scenes and figures in front of classical paintings," he said.
The man said he was appalled at the condemnation of Henson's 2008 exhibition.
"There's a difference between pornography and nudity and Australia and the media seem to have an obsession that nudity is pornography," he said.
A spokeswoman for Henson said the artist does not comment on his work.
-AAP