New Zealand cricket teams have always prided themselves on their fighting qualities. At times their has been a shortage of true class in their teams. But grit and resolve have been on hand to make New Zealand's reputation as a unit who will make opponents work for their success. That was one of the most pleasing parts of New Zealand's three-wicket win over England at Hamilton's Seddon Park last night, for captain Brendon McCullum.
Latest NZH Video
Jacinda Ardern speaks at the 'Let's Talk to Labour' youth event.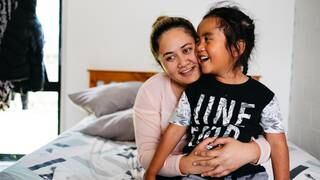 19 Aug, 2017 3:54pm
2 minutes to read
Exclusive: Compelling documentary challenges stereotypes around young mothers.
Protesters marching on Dunedin Hospital have forced Prime Minister Bill English and his entourage out a side door this afternoon. Source: ODT