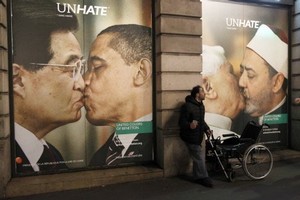 The White House has slammed a new Benetton advertising campaign showing US President Barack Obama kissing Chinese and Venezuelan leaders smack on the lips.
"The White House has a longstanding policy disapproving of the use of the president's name and likeness for commercial purposes," said a spokesman Eric Schultz, of the adverts which have also triggered a protest from the Vatican.
The ads, unveiled on Wednesday, show photoshopped pictures of Obama kissing Chinese President Hu Jintao and Venezuelan leader Hugo Chavez.
The controversial campaign has already prompted an outcry from the Vatican over another picture in the series showing Pope Benedict XVI kissing a leading imam.
The Vatican said Benetton's portrayal of the pope "is wounding not only to the dignity of the pope but also to the sensibilities of the faithful."
It was asking its lawyers "to take action in Italy and abroad to prevent the circulation in the mass-media and elsewhere of the photo montage produced as part of Benetton's publicity campaign."
The posters appeared in Benetton clothing stores across the globe as well as in newspapers, magazines and on internet websites, with the company defending the campaign as meant "solely to battle the culture of hate in all its forms."
- AFP