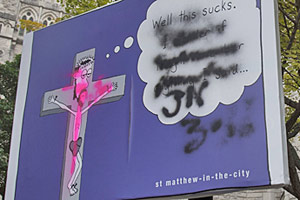 Graffiti scrawled on an Easter billboard at the inner city Auckland church, which made world headlines with its Christmas message, contained a religious message, says the church.
The Easter billboard at St Matthew in the City featured a cartoon of a bearded Jesus nailed to the cross with the caption: "Well this sucks. I wonder if they'll remember anything I said..."
Church spokesman, Reverend Clay Nelson said he was disappointed with the defacement but at least it had a religious message.
"It took me a while to read the graffiti, but it's definitely a biblical reference, rather than just a tagging.
"Clearly they objected to the theology on the billboard because they wrote John 3:16 on it, which they feel is their response to the billboard.
"This is a quote from the gospel of John which says God gave his only son for the salvation of everyone. It's a view of what happened on the cross after Easter.
"Our billboard shows Jesus before Easter. Some Christians believe Jesus knew what was going to happen to him in advance, but we disagree with that. That's what the vandals were objecting to."
Last Christmas a billboard at the church featured a disappointed-looking Mary and Joseph in bed with a caption saying "Poor Joseph. God was a hard act to follow".
It drew criticism from around the world, was defaced, attacked with a knife, repaired, attacked again and finally removed.
Complaints about the Christmas billboard were dismissed by the Advertising Standards Authority last week.
- NZPA