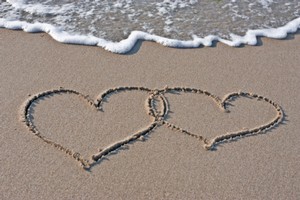 A group of young travelling girls spot a bunch of Israeli guys playing beach volleyball on an island in Thailand. The bikini babes spread their beach towels on the sand near the gents in a bid to break the ice. One of the girls, New Zealand born Anna Chudleigh, has her eye on one of the bronzed boys.
They make plans to catch up and check out the bars around Koh Phi Phi and are inseparable for the following three days on the island. But alas, they live on opposite sides of the world... it sounds like the start of a rom-com classic. The holiday romance, the obstacles to their love...
"When it came time for me to leave, we said we'd keep in touch but at that time I don't think we expected anything to come of it - I was a 21-year-old from Sydney who barely knew where Israel was, he had just come out of the Israeli army and our worlds were miles apart," Anna says.
"But as I caught the boat back to the mainland I had a really strong sense that I would see him again."
We all know holiday flings aren't forever. Remember the local PR pro, Julia Cross who met a London lad Martin at a club in Ibiza. The pair quickly hit it off and shared a kiss as the sun rose over the Spanish sands. Julia gave the software developer her number, but never heard from him again. Convinced she must have offered him the wrong digits she launched an online campaign to find Prince Charming. Turns out he's back with an old girlfriend. Not the happy ending that would have resulted if this was a rom-com starring Kate Hudson and Matthew McConaughey.
Dating author and columnist, Zoe Foster, says holiday flings take off because travellers leave behind the daily grind, along with its inhibitions and concerns.
"There's just a real freedom and spontaneity about them that you don't often subscribe to in real life," says the recently engaged author.
"We spend most of the year being very conscientious and very mindful ... but for some reason, in summer ... you just tend to feel more happy and liberated and carefree.
"[You're] ready to take a bit more of a risk than you normally would and have a bit more fun and care a little bit less about the consequences and there's something to be said for that.
"It's good to mix it up a bit and live a little."
You don't have to worry about making first date mistakes, whether he's a cat or a dog man or what kind of dynamic he has with his old man. Just go with it. Remember how Stella got her groove back?
"It's like something out of a movie, you just feel like your life has an awesome soundtrack. It's ridiculous because the guy might be a lot younger than you or completely inappropriate and you just don't care."
But like any good album, this holiday fling will come to an end and then you've got to face reality.
"You've got to be careful about trying to drag it into the real world once summer's over and the fling's over," Foster says.
"It's kind of a fake life. It's not real. We're not at work, we're drinking more than we normally would, we're having a very different life to what we normally would.
"If you try and push something that is in that sort of fantasy land you can sometimes
have your expectations massacred because you're so upset and disappointed."
However, there are some real life rom-coms that have very happy endings.
After bidding farewell to her Israeli crush, Anna went on to travel around Europe, live in the UK and move back to Australia. The travellers stayed in touch via email.
"We didn't want to lose contact completely - there was something that compelled us to maintain a connection," she says.
After a couple of years the correspondence became more frequent and they started speaking on the phone.
"It quickly got to the point where I would be out with friends and all I could think about was getting home to speak to him on the other side of the world. Over the next nine months we spoke to each other every day before we decided we needed to meet up again - and I flew to Israel for six weeks to visit him.
"Three months later Sivan moved to Australia to be with me and after six years together, we were married in Sydney on 9th January 2011.
"I married my soulmate and I'm very glad I was on that Thai beach in July of 2002. A lot of holiday romances don't work out but some are the start of something that is meant to be."
Do you have a holiday fling with a happy ending?