Fashionable New Zealanders give Viva insight into their perfect Valentine, plus tips for the big date.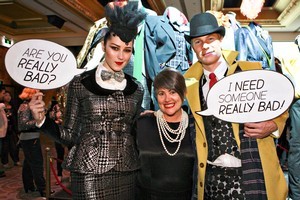 Tim Wilson
New York based One News US correspondent; author of Their Faces Were Shining (Victoria University Press $30).
My dream date would be ...
Describing said event without the actual femme is like building a spaceship and neglecting to install hyper-drive. Much depends on the lass. She's hard to make out clearly, but she does have a long neck and a tinkling laugh. Can we go back in time? Ta. I'd take her to a lecture I enjoyed from last year on the French writer and famous swine Georges Simenon. That'll sort out the sheep from the goats. Then to Hecho En Dumbo, a Mexican resto on the Bowery. The petrol of any really good date shouldn't be booze but talk, and - omitting the usual Improvised Explosive Devices - preferably wide-ranging chatter. So if we're discussing why many ordinary Americans feel abandoned by their elites, and then I say, casually, "We got tom-toms over there bigger than a monster," she might reply, "Sorry but I find Nicki Minaj a bit too ghetto fabulous." If that sounds somewhat liturgical, then diddums: all relationships are call-and-response. Continue the discussion over a nightcap at the dirty old Mars Bar.
My 'dream date' outfit is ...
There's this white H&M suit thingy I have that cost me next to nothing. Add it to a blue shirt with french cuffs and blue Converse All Stars, and you're pretty much tricked out like the spangly toerag you dreamed of becoming when you were 14. The last time I wore this outfit I ended up in an informal boxing match with my producer mate Nick on a sidewalk in the West Village. His beloved said we fought like girls. I take that to mean that no quarter was given. Well, none was asked for.
My date would wear ...
That's her department, surely? I do prefer women whose attire suggests, rather than exposes, their charms. High heels are nice; I've a thing for pretty feet. Bare wrists also are lovely. You know how when some ladies walk, one hand seems to just swivel, describing ovals in the air? Ay-yai-yai. She should smell pleasing but only hintingly so, the olfactory equivalent of a whisper.
My most memorable date, good or bad ...
The annual "Master and Commander" dinner at the Down Town Association in New York. The DTA is one of the city's oldest clubs. This dinner is for fans of the Patrick O'Brian novels. We were served dishes from the book (including "portable soup"), and between courses (silver service) listened to readings from the series, and Master and Commander-related anecdotes. We toasted Her Majesty, and the President of the United States of America with strong drinks. During dinner my companion ordered the movie to be Netflixed when we got home. A couple of young students from the United States Naval Academy had taken the train up from Annapolis, Maryland to attend. They were accompanied by a priest. They argued knowledgeably about scenes from the books. Then they sang a sea shanty.
My best first date tips ...
Sit up straight. Self-restraint when it comes to the sauce. Don't be slavishly polite, but don't be rude either. Hold the door for her. In conversation, steer clear of religion/sex/politics: who cares what you think? Display yourself in the best light possible; I've a colostomy bag in tweed that sets off the azure my eyes. Make her laugh. If you like her, say so. Pay for everything. Call the next day.
Denise L'Estrange-Corbet
World co-founder
My dream date would be ...
Held in the future on a New Year's Eve, and I would have landed a few days earlier in the Lear jet of my new man. Mr Hunk, who has his own teeth, hair, eyes and limbs would also own the penthouse apartment which spans the entire floor of the block, and has a 360 degree view of NYC along West 57th Street or thereabouts, and we would be looking out over Central Park as heavy snow blankets the city in silence. Guests would have departed after experiencing an evening of Cristal Champagne and hors d'oeuvres prepared by our very own superchef, Peter Gordon, who has flown in for the evening. The only person present now, apart from Hunk and myself, is the pianist in the corner tinkling the ivories of the Steinway grand in the dimmed light. Hunk and I are standing at the large expanse of window, I am looking out over the beautiful city, and Hunk is looking at me! The room features a sunken lounge, with large down-filled leather Antonio Citterio couches, and a carpet with such depth that your feet sink as you walk. As the clocks strikes midnight, we can hear the cheers of the crowds in Times Square and Hunk would present me with a large box, containing enormous amounts of diamonds in a platinum setting in the form of earrings, with matching bracelet and necklace from his friend Harry Winston. I would put on the jewellery and continue reading my Mills and Boon novel in my slippers, such is life ...
My dream date outfit ...
Would come from the new World "How do You Solve a Problem Like Maria?" collection shown at NZ Fashion Week last year and available in-store now. I would be wearing the Drama Gown or Adam's Eve gown in the finest silk in yellow or blue as I waft around the apartment with the metres of silk flowing behind me, having changed from my arrival outfit of the Dream Dress, also from the same collection. All would be in a size 8. I would look like a dream.
My date would wear ...
Hunk would be a classic dresser. I do not like brands that have logos emblazoned across the front of everything, his clothing would be understated, but beautiful. He would wear a black fine wool Hermes polo neck as it is winter, black skinny leg cotton trousers and an impeccably cut jacket from the new World collection. His shoes would be coloured suede loafers or Hermes trainers in a bright colour. He would wear no jewellery apart from a watch, be taller than me and be able to hold my attention for longer than a nanosecond. He would possess charm, wit, kindness, love animals and never, ever cheat, unless he wanted his life cut short.
My most memorable date, good or bad ...
Would have to be when Francis and I first met and he took me to a really bad Molly Ringwald movie at the Civic, I think it was our first "date". I remember insisting that I paid for myself, and the movie, when it started, was atrocious, and that is putting it mildly. I kept asking myself if I was missing something, as I could see Francis was really enjoying it. After it finished, which was not soon enough as far as I was concerned, Francis turned to me and said "Wasn't that amazing? Don't you love Molly Ringwald?" To which I found myself replying, "It was sensational, I loved it!" From that moment on, he took me to see all the Molly Ringwald movies including Sixteen Candles and The Breakfast Club. For me it was worse than having teeth pulled, and I made every excuse under the sun to get out of them, but just couldn't. After we got married, literally straight after, I shouted "I hate Molly Ringwald and all her stupid movies!!" He was astounded and said "You never said that before" and I said "I lied". My advice to anyone on a first date is never, ever lie. I had to endure Molly's movies in silence, and have never lied to Francis since.
My best first date tips ...
Don't sleep with each other on the first date; I just don't get this. Call me old-fashioned, but I like to know a person first, and after a couple of hours how can you possibly? You don't know where they have been, or worse, who they have been with. Romance seems to have been replaced with lust, which is a shame. If a guy expected me to jump into bed with him on a first date, he obviously has a super-high opinion of himself which I would shoot down very quickly. It is called self-respect, which seems lacking so often these days. Am I sounding like my mother?
Grant Fell
Publisher and co-editor, Black magazine
My dream date outfit is ...
I like the idea of a "dream date outfit" as it translates to the high-end fashion I would like right now. So I think I would choose an ensemble largely from this year's European AW2011 men's collections. From head-to-toe: hair cut by Tom at Ryder, always perfect. Assuming the date is autumn/winter, I'd go for the opening grey coat from Lanvin's AW2011 show recently. Love the silhouette, length at the knee and lapel/pocket combo. Shirt: Lanvin AW2011 white shirt with 1920s style collar. I love the show Boardwalk Empire and this style of shirt is omnipresent. Trousers: Acne Men's AW2011 slim-legged suit pants. Love the simple tailored look of these and ideal under a coat - wide pants just don't cut it there. Shoes: Louis Vuitton Summer 2011 Salvador Richelieu lace-up. Louis Vuitton, say no more. A Rado Original Automatic Skeleton watch - I've always loved Rado, the utter Swiss precision of it all, and they have an amazing art gallery chocka full of Warhols, my favourite watch brand. Rings and jewellery would be a mix of Wunderkammer Jewellery and Eddie Borgo.
My date should wear ...
Well obviously my dream date outfit is built around [wife and Black co-founder] Rachael's style as she is my dream date. So, starting at the top; hair cut and styled into a rock'n'roll, long, wavy do by Greg Murrell at Ryder Salon using KMS California products. Greg cuts Rachael's hair regularly and every single time she comes out looking beautiful; he's a genius. Makeup would be simple, natural, contoured in neutral tones using M.A.C Cosmetics in the raw/refined M.A.C trend for the season - particularly Sally Branka's makeup for Todd Lynn. Personally, I don't like too much makeup on women unless they are on the catwalk. Most mornings Rachael asks me about her outfit for the day so I can lay claim to being her personal stylist but choosing the perfect date outfit for her is a big ask. I'm going to go with one outfit by one designer, Rad Hourani, because he is so chic and so Black, and therefore so Rachael. It's from Rad's Fall 2010 collection - I would like to see Rachael head-to-toe in the seventh outfit from the collection - black leather.
Plus, an Alexander Wang Kirsten calf suede satchel; Classic Rado ceramic Cerix watch designed by Werner Schlup, and rings and jewellery all by Zora Boyd at Wunderkammer.
My most memorable date, good or bad ...
I originally wanted to propose to Rachael on top of the Empire State Building (it was a childhood thing) but marriage ended up coming before our New York trip. When we did get there in the mid-90s for the first time we made the trip to the top of the world's greatest building - there is something romantic about it, ask King Kong. After sneaking a small bottle of red wine on the observation deck (this was before 9/11) we headed to West 3rd Street for dinner at Il Mulino, one of the best Italian restaurants ever. Later we went clubbing and ended up on the roof of our hotel near Times Square as the sun came up. We both find New York the most dynamic city on Earth, and the most romantic ...
My dream date would be ...
That would have to be a weekend staying in one of the hotels built into the stone wonderland that is Cappadocia in Turkey. The alien landscape is beautiful and apparently the balloon flights over that landscape, breathtaking. The place is both ancient and surreal, we've always loved Turkish food and would be a starter for sure for the local tipple. At the other end of the spectrum entirely from New York but no less romantic.
My best first date tips ...
That's a while back but nothing changes really so - like life and partnerships in general - look for a 50/50 situation to start with. Don't talk too much or too little, search for balance. Don't drink too much, be yourself, be confident, laugh and have fun and don't be scared to ask questions. Dress up a little and wear something that is an expression of yourself, how you see yourself and yes, wear clean, tasteful underwear ...
Emma Cruikshank
PR agent
My dream date would be ...
I am not the most romantic person in the world so the best date for me would be something where I can enjoy the other person's company without all the pressure and stereotype. It would probably consist of going out for Japanese, having some nice wine and watching a movie at home. Just my husband Dan and I. This is my perfect night; we are both so busy it is always extra special just to have a few hours alone.
My dream date outfit is...
For me personally I would go for something on the more casual side - probably my favourite pair of black Ksubi jeans, some killer boots (I just bought some new Opening Ceremony ones which I would wear once I had learned how to walk in them), a cute vintage top maybe with a leather jacket or fur on top. I am not really a dress person so something along those lines, purely because this is what I am most comfortable in and would hate to look like I was trying too hard. In terms of my hair I don't really pay much attention to that (even though I should). I have uncontrollable curly hair so it is generally just left out and curly. If I was going to have it styled the wonderful Mobeen at Stephen Marr knows how to get it just right. My makeup is usually pretty low-key too but I love wearing heaps of mascara and smoky eyes. And a nice perfume is key.
My date should wear ...
I love it when a guy has his own thing going on; it's always nice to see them make an effort though for something like a date. My husband Dan always looks good to me. His style is pretty low key, nice shirts, T-shirts and pants with some cool boots. Shoes are key for a guy. Guys take note: girls will notice these first.
My most memorable date, good or bad ...
Dan organised a Valentine's Day date a few years back when I was still living in Sydney. He got advice from all his Sydney mates as to what restaurant he should take me to, he had it planned for a long time and flew over especially. We got there and I realised it was a shellfish restaurant with things like lobster mousse and crab jelly and caviar and weird stuff. Dan didn't realise but my pet hate is shellfish ... but I ate it very slowly gulping it down with a lot of wine. I eventually told him that I couldn't eat anymore and we stopped off at the local burger joint. He made it up to me though (even though I didn't care and just thought it was hilarious) by flying me to Auckland for a weekend and cooked a three-course meal for me with no shellfish in sight. Yep, he's a keeper!
My best first date tips ...
I know it is said a lot but it is so important to be yourself. This includes your interests, hobbies, opinions, morals. If you try to "over relate" to someone, the truth will come out in the end. And my number one: don't drink too much. Slurring is bad. But have fun.