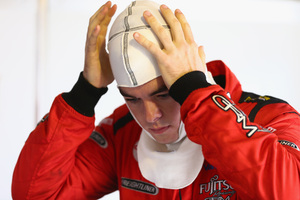 V8 Supercars Australia will discuss capping the number of manufacturers in the championship following Volvo's decision to join the competition next year.
The Swedish manufacturer announced yesterday it will form a team called Volvo Polestar Racing with existing outfit Garry Rogers Motorsport in a multi-year, multi-million-dollar deal.
The team will race two of the manufacturer's S60 model sedans, raising the number of makes on the V8s grid to five from next year with Nissan, Mercedes-Benz, Holden and Ford already racing in the category.
That number was a target set by V8 Supercars Australia when it began its push to acquire new manufacturers and break the Holden-Ford duopoly under its "Car of the Future" plan.
"Five manufacturers by 2014 will have met the short-term objectives of Car of the Future," V8 Supercars chairman Mark Skaife said. "For them [Volvo] to come back into our game is a real endorsement of what we're doing."
Skaife will hold discussions with incoming chief executive James Warburton about whether to keep pursuing manufacturers or whether to set a cap on the number of makes competing in the championship.
"We'll look and continue to negotiate with car companies over the next couple of years and we'll make a decision at what we cap it at but, at this point, we haven't made that."
The big winner out of yesterday's decision is GRM owner Garry Rogers, who has been operating a V8 team since 1996 with limited backing from Holden.
He said the certainty and budget he would be working under as a full factory outfit would give his Victorian-based team the opportunity to battle realistically with heavyweights such as Red Bull Racing, Holden Racing Team and Ford Performance Racing.
"From a team perspective, it's vital," Rogers said about securing Volvo's support. "For myself, and certainly my team ... this is a very, very big positive for us."
Drivers Scott McLaughlin and Alex Premat will be retained and race for the team next year, Rogers said.
Volvo raced in Australia for several years in the precursor to the V8 Supercars championship, the Australian Touring Car Championship.
The manufacturer won the title in 1986, while Jim Richards and Rickard Rydell drove a Volvo S40 to victory in the 1998 Bathurst 1000.
- AAP