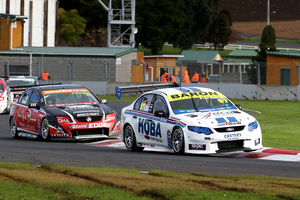 The third round of the V8 SuperTourers at Pukekohe yesterday belonged to V8 Supercars driver Shane van Gisbergen. He was one of only a few who respected the wet and slippery conditions and drove within himself to stay on the tarmac and collect the round win.
Greg Murphy, who placed second for the round, and third-placed Scott McLaughlin also drove with care to get a feel for the track in the opening stanzas of each race, while a number of others let the red mist descend.
"You had to be careful at the start because there was water on different parts of the track," said van Gisbergen. "It was great to come here and grab a load of points after a bad round at Ruapuna.
"It puts us in a good position for the rest of the season and if we keep it up we can challenge for the championship. It was good to finally get two wins and a pole and it almost feels good to finish second to Murph at Pukekohe."
After the dramas of the first two races, fans, team owners and crew held their breath as the lights went out and the field thundered into turn one - the scene of many a previous drama. Lessons must have been learned as the field made it through and the drivers settled into their work. Race three was almost incident-free with Murphy getting the jump on van Gisbergen and the rest of the field.
As much as van Gisbergen tried, he could not get past the king of Pukekohe and had to settle for second with McLaughlin in third.
There is no doubt the track was wet and slippery in the first two races, but a number of drivers have to look at themselves and their approach to wet weather racing. At times there were only 13 cars running, from a field of 19, and many a driver should have paid more attention to the New Zealand Police's advice, "Drive to the conditions."
"I think it's a bit silly that the guys at the back are going a bit too hard and spinning out to try and make up a few places," said van Gisbergen.
Race two had the biggest shunt of the weekend, which involved eight cars on the opening lap. After the debris was cleared, van Gisbergen picked up his second win of the day from Murphy and Ant Pedersen.
"When you're out front you have to take it a bit cautiously to see what the grip is," said van Gisbergen.
The opening race of the day was a succession of short sprints after the safety car was deployed four times during the scheduled 15 laps and van Gisbergen held the field at bay over the truncated race to win from Murphy and McLaughlin.
Round four of the series is at Taupo Motorsport Park on September 1.