As the V8 Supercar drivers take to the Pukekohe track today, Damien O'Carroll looks at our touring car stars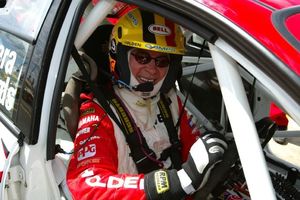 Jim Richards
Seven Bathurst victories and four Australian Touring Car Championships are more than enough to make Jim Richards a Kiwi touring car legend.
Despite a long and successful career racing in New Zealand, it was the 1974 Hardie-Ferodo 1000 race at Bathurst that launched him into an even more successful career in Australia. Of Richard's four ATCC titles, his third and fourth titles were the most controversial, as they came behind the wheel of the awesome and infamous R32 Nissan Skyline - or "Godzilla" as it was more commonly known.
While Richards has retired from professional driving, he is dominating the Touring Car Masters championship, winning the title in 2010.
Paul Radisich
Radisich started his career in touring cars with a second place at Bathurst in 1990. Driving a Ford Sierra RS500, this success took him away from the open-wheelers and towards the tin-tops that he would make his name in.
During an impressive run in the British Touring Car Championship (BTCC) Radisich twice won the World Touring Car Cup in 1993 and 1994, driving a Ford Mondeo.
In 1999 he returned Downunder and joined Dick Johnson Racing in the V8 Supercar series. He would also go on to drive for Team Kiwi Racing and Toll HSV Dealer Team before a big crash during practice for the 2008 Bathurst 1000 would end his driving career.
Robbie Francevic
Designing, building and successfully racing the legendary "Custaxie" in the New Zealand Saloon Car Championship would be enough to confirm Francevic's status as a legend, the fact that he is also the only New Zealand resident, and only the second New Zealander, to win the Australian Touring Car Championship (Jim Richards was the first Kiwi, but he was living in Australia at the time) in 1986 cements his legendary status completely.
Francevic won the Aussie title in 1986, driving a Volvo 240T, and was legendary for his hard-charging style of driving in the Aussie series. He would go on to race a Ford Sierra RS500 in both Australia and New Zealand, which would see him secure two consecutive NZ Touring Car titles in 1989 and 1990.
Greg Murphy
Certainly one of the most popular Kiwi drivers to race a tin-top, Murphy started racing aged 8. Since then he has gone on to have a successful career in V8 Supercars, exclusively driving Holdens.
Although never quite winning the V8 Supercar championship, despite coming close on occasion, he is one of the most well-liked drivers and is equally loved for his ferocious pace and his outspoken personality.
In 2012, Murphy turned his attention back home by competing successfully in the V8 SuperTourer Championship, finishing second in the title race and winning the endurance series.
Craig Baird
A pure winning machine, Baird may be more well-known for his utter domination in Porsches both here (GT3 Cup) and in Australia (Carrera Cup) and his current appearances in the NZ SuperTourer Championship, but back in the 1990s, Baird was the man to beat in the NZ Touring Car Championship.
Baird ruled the series for BMW in the mid-to-late 90s, taking out the title in 1994, '95, '96 and '97. After his local domination, he headed to Britain, where he raced alongside Radisich (who he in fact replaced in the works Ford team) in the 1998 season, one of his few unsuccessful seasons (he finished 20th).
Jason Richards
Aside from being one of the nicest people in New Zealand motorsport, Richards was also one of the most dominant drivers in the New Zealand Touring Car series in the late 1990s.
Richards won the 1999 and 2000 titles in a BMW 320i for Lyall Williamson's International Motorsport team, before switching to the Team Kiwi Nissan Primera to take his third title in 2001.
He would stick with Team Kiwi for his move to the Australian V8 Supercar series, with little success. His switch to Tasman Motorsport in 2004 would herald better results and Richards looked increasingly like a driver who deserved to be at the top of the podium.
Unfortunately he was diagnosed with cancer in 2010 and died on December 15, 2011, aged 35.
John McIntyre
A successful career in Touring Cars seemed inevitable when McIntyre became the first minor to race on a permanent race circuit in New Zealand in 1990 at age 13.
Moving to the TraNZam Lights in 1997, McIntyre stayed with the series when it became the NZ V8 Touring Car championship in 1998 (and eventually NZV8s in 2005) and was a regular race winner and title challenger.
McIntyre set up his own team in 2006 and would go on to be dominant force in the NZV8 series, winning the championship title in the 2006-07, 2007-08 and 2010-11 seasons.
Denny Hulme
Although Denny Hulme is better-known for being New Zealand's only Formula One World Champion, he also had success in Touring Cars.
After his retirement from F1 he raced several times in the Benson & Hedges 500 at Pukekohe, one year with Stirling Moss as a partner.
By 1982 he was racing regularly again and built a Holden Commodore to win the NZ Production Series in 1983. He headed off to Australia to drive for Frank Gardner's JPS Team BMW, which would see him take a second in class at the Bathurst 1000 in 1984.
By 1986, Hulme raced in the European Touring Car Championship in a Rover Vitesse and in 1988 Hulme and Larry Perkins would team up to drive for the new Holden Racing Team, the pair giving the fledgling team its first victory at the 1988 Australian Grand Prix support race.
It was at Bathurst in 1992 that Hulme would suffer a heart attack and die behind the wheel of his BMW M3 on Conrod Straight.
Kayne Scott
After a third place in the 1989 NZTCC, Kayne Scott moved across to the mighty TraNZams and dominated the series in the early '90s, taking five consecutive titles from 1991 to 1995.
After taking six years off to concentrate on his business and his family, Scott headed off to the United States to compete in Trans-Am, before returning to the NZV8 series.
He won the 2005-06 title and became one of the leading drivers in the series. Finishing third in the Fujitsu V8 Supercar development series in 2007 led to his big V8 Supercar break; a full-time drive with Team Kiwi Racing.
Unfortunately coinciding with TKR's downfall, good results were scarce and later in 2008, Scott would return to the NZV8s and take out the championship for a second time.
Shane Van Gisbergen
Think of this as more of a "one to watch" entry. For now.
Going straight from single seaters into V8 Supercars, Shane Van Gisbergen became the 200th to start a race in a V8 Supercar when he debuted for Team Kiwi Racing in 2007. The next year he signed to Stone Brother Racing and his march up the leaderboard began. By 2010 he was a regular top 10 contender and the next year he won his first V8 Supercar race. He would take a second win that year and, with Mark Winterbottom, would be the only Ford driver to win that season.
This year, amid the storm of controversy and ill-will that surrounded his decision to retire, then un-retire, he showed his true class by shutting all that out and taking pole for the first race of the season and a remarkable win in the second.
One to watch? Most definitely.