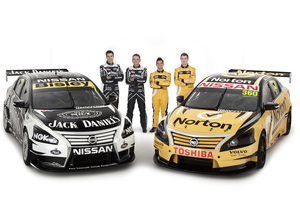 Supercar racers James Moffat and Michael Caruso will help spearhead Nissan's bold attack on this year's V8 championship.
The pair were named this week as the drivers of Nissan Motorsport's Norton-backed Altima entries.
The pair join highly accredited brothers Todd and Rick Kelly, who will campaign in the black-and-white Jack Daniels cars.
The Altima is one of two new marques joining Holden and Ford in the series this season under the Car of the Future programme, in which newly engineered machines promise closer racing.
The second new brand lining up on the grid will be the Erebus E63 Mercedes, built as a private customer car by the manufacturer's performance arm, AMG.
The Kelly brothers formerly raced Commodores under the Kelly Racing banner before their team morphed into Nissan Motorsport when the Japanese maker announced their entry into the championship in February last year.
Rick Kelly won the Bathurst 1000 in 2003-04 with Greg Murphy and was V8 Supercar champion in 2006, while Todd paired Mark Skaife to win Bathurst in 2005.
Moffat is the son of touring car legend Allan Moffat and previously ran a Ford Falcon for Dick Johnson Racing.
Caruso is a former Australian Formula Three champion who finished third at Bathurst with Lee Holdsworth in 2009.
Nissan has a history in Australian touring car racing dating back to 1984 when George Fury took pole position for the Bathurst 1000 in a Nissan Bluebird.
The make dominated the series in the early 1990s winning the touring car title from 1990-92 and the Bathurst crown in 1991-92.
Nissan's early pace will be revealed today at the V8 Supercar official test day at Eastern Creek in Sydney.
The Altima has already completed a series of aerodynamic homologation test runs as well as circuit tests at Eastern Creek and at Winton in rural Victoria.
Moffat says he believes the car will be highly competitive, even in its inaugural season.
"I've driven the Altima a few times now and it's a serious contender," he says. "There's so
much potential there, I think the Norton team will be in very good shape this year.
-AAP