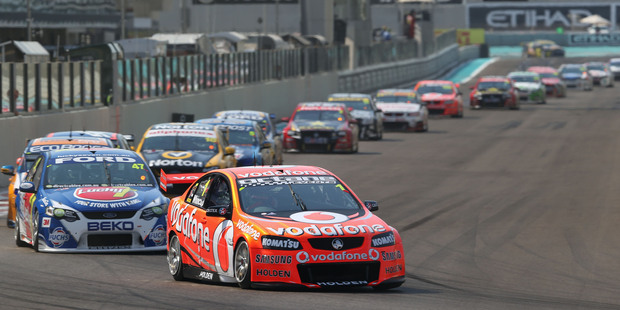 Jamie Whincup continued his inexorable march to his fourth V8 Supercars' championship in Abu Dhabi over the weekend. The defending champion won the opening two races on Saturday to extend his lead over Mark Winterbottom in the series to 270 points.
The song remained the same in Sunday's race three when he again swept the field clean.
Whincup is now 296 points ahead of FPR's Winterbottom with two events to go.
"Until it's mathematically over I won't rest," says Whincup. "I won't be chilling out over the next two weeks. I would be much more comfortable if we had one event to go. We have worked too hard this year. Not only did we get ourselves in a position to lead, to turn the tide - don't underestimate that."
Will Davison was again second and this time Tim Slade rounded out the top three. Unfortunately, for the second time in 18 months, Karl Reindler's car exploded into flames after a mid-race pile up through no fault of his.
A fourth place finish in the final race assured Kiwi driver Shane van Gisbergen third place on the round podium and helped him bolster fifth place in the series' points standings with just two rounds to go.
"Tim [Slade, van Gisbergen's teammate] got a rocket start and I sort of settled into fourth to save tyres, knowing how they went off in the first two races," says van Gisbergen. "Then we got the safety car and they got a good cool off and the race was shortened, so that plan went out the window.
"As soon as it went green it was just flat out the whole time, but our tyres weren't really there at the re-start. They came on good but our balance was a bit different."
Qualifying for the three races was an unusual affair for the V8SC, as there was a single 20-minute qualifying session with drivers' three respective fastest lap times determining their grid positions.
Davison was back to his early season best by setting the fastest laps over Whincup and the flying van Gisbergen.
In the first two races Whincup got the jump on Davison and van Gisbergen to lead the pair home each time.
"Both races were pretty boring but you can't complain too much when you're in third," says van Gisbergen. "I couldn't quite get to the front two; well, I could have but it just would have burnt up the tyres so I just ran my own race. Just the feeling of being on the podium twice is good after the year we've had. It's really good for the team to get two podiums."
Winterbottom and Craig Lowndes' charge to challenge Whincup for the title took a hit with the FPR driver finishing sixth, fourth and fifth, while Lowndes could manage only eighth and two 11ths.