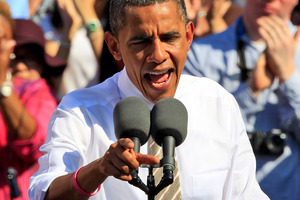 Barack Obama's campaign team urged reporters not to get "distracted" by a word after the US president was quoted using a profane term to tag rival Mitt Romney as dishonest.
Obama communications director Dan Pfeiffer did not deny Obama had used the word "bulls***ter" in a conversation with journalists from the magazine Rolling Stone, and insisted: "Trust is a very important part of this election."
An advance copy of Rolling Stone's Obama interview, due on newsstands next month around the time of the November 6 election, recounts a chat at the White House between the president and the reporters.
"As we left the Oval Office, executive editor Eric Bates told Obama that he had asked his six-year-old if there was anything she wanted him to say to the president," the story recounts.
"After a thoughtful pause, she said, 'Tell him: You can do it'. Obama grinned. 'That's the only advice I need,' he said. 'I do very well, by the way, in that demographic.
Ages six to 12? I'm a killer.'
"Thought about lowering the voting age?" Bates joked.
"You know, kids have good instincts," Obama offered. "They look at the other guy and say, 'Well, that's a bulls***ter, I can tell'."
US politicians - especially presidential candidates - usually refrain from using strong language in public, and Obama's reported use of a profanity quickly sped around news websites and social media.
There was no immediate reaction from Romney's campaign.
- AFP