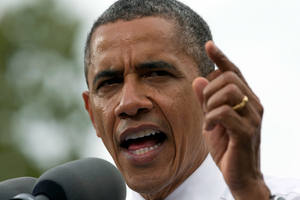 The White House accused Mitt Romney's camp of adopting "desperate" tactics after the challenger's team dug up a 14-year-old tape to accuse President Barack Obama of socialist leanings.
Republicans seized upon the audio - in which then state lawmaker Obama says he favours some "redistribution" of wealth - as it fought back after the release of secret film showing Romney disparaging nearly half of US voters.
White House spokesman Jay Carney said everyone who follows politics had seen "circumstances like this where a campaign is having a very bad day or a very bad week."
"You sometimes witness an effort - that seems desperate - to change the subject. We might be witnessing that now," he said.
In the audio, Obama can be heard advocating for a government role in resource redistribution.
"The trick is figuring out how do we structure government systems that pool resources and hence facilitate some redistribution because I actually believe in redistribution, at least at a certain level, to make sure everybody's got a shot," Obama says in the audio.
Carney said that Obama in the audio tape was making an argument for a "more efficient, more effective government.
"He believed then and believes now that there are steps we can take to promote opportunity and ensure that all Americans have a fair shot if they work hard."
Carney also expanded his criticism of the remarks made by Romney to rich donors in the video obtained by "Mother Jones" magazine in which he said 47 per cent of Americans backed Obama because they were dependent on government handouts and did not pay taxes.
He said Obama "certainly doesn't believe, as some apparently do, that any student who looks for a government-backed loan is looking for a handout, or that a senior citizen receiving Social Security is a freeloader, or a combat veteran not paying taxes is a victim."
"He believes that we need to make government more effective and more efficient."
- AFP