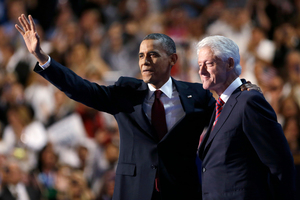 US President Barack Obama will tell America that November's high-stakes election is the "clearest choice of any time in a generation'' in a prime-time convention pitch to voters later today.
"I won't pretend the path I'm offering is quick or easy,'' he will say, according to excerpts.
"The truth is, it will take more than a few years for us to solve challenges that have built up over decades.''
But, he will insist, "our problems can be solved. Our challenges can be met. The path we offer may be harder, but it leads to a better place.''
To get there, Obama will make concrete promises to create new jobs, reduce dependence on foreign oil, cut sky-high debt and rejuvenate the US education system.
Together they form a series of benchmarks that could help define his second term.
"I'm asking you to rally around a set of goals for your country - goals in manufacturing, energy, education, national security, and the deficit; a real, achievable plan that will lead to new jobs, more opportunity, and rebuild this economy on a stronger foundation.''
Charting a course away from high unemployment, Obama will promise to create one million new manufacturing jobs by 2016 and to train two million workers at community colleges so they can get new or better posts.
He will also promise to recruit 100,000 maths and science teachers within 10 years, and to slow the rate of tuition hikes - an aim sure to appeal to younger voters who formed the roots of his campaign four years ago.
Many of the pledges echo the ones made in Obama's first term that appear closest to fruition, notably efforts to double exports and half oil imports by 2020.
"That's what we can do in the next four years, and that's why I'm running for a second term as president of the United States,'' he will say.
Obama faces a high bar to better the speeches made by his wife and Bill Clinton in his convention address.
The prime time address comes as he's locked in a too-close-to-call race with Republican Mitt Romney to November's election, in a nation where the story of the lingering financial crisis is told by 8.3 per cent unemployment.
Democrats will devote a portion of today's programme at the National Convention in Charlotte, North Carolina, to lionising Obama's record on national security, an area in which polls show he is favoured over Romney.
Obama's decision to order a special forces raid deep into Pakistan to kill Osama bin Laden last year will doubtless play a starring role, along with his successful implementation of a 2008 campaign vow to end the Iraq war.
Former Democratic nominee John Kerry and Vice-President Joe Biden will lead the tributes to Obama as commander-in-chief, hoping to capitalise on Romney's failure to mention the Afghan war in his own convention address last week.
Delegates were still buzzing after a tour de force address by former two-term Democratic president Clinton, who still has stellar approval ratings and has lost none of his ability to make crisp political arguments.
Clinton appealed to Democrats, crucial independents and undecided voters, delivering a point-by-point rebuttal of Republican attacks and a sweeping and unequivocal embrace of Obama, laying to rest previous tensions.
- Agencies