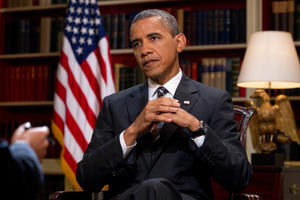 President Barack Obama and the man who wants his job, Republican Mitt Romney, are locked in a neck-and-neck battle for the White House, with the challenger one point ahead in a new poll.
As the two head into their parties' conventions, beginning this week with the Republicans, the state of the US economy remains the dominant election theme, more than the issues including abortion that have roiled the political debate in recent weeks.
A Washington Post/ABC News survey of registered voters found Romney has crept ahead of the incumbent, 47 per cent to 46 per cent, a figure barely changed from early July.
More than eight in 10 voters give the economy poor marks, according to the Post, while 50 per cent say they trust Romney more to handle the economy, compared with 43 per cent for Obama.
A majority of respondents say they don't believe either candidate has what it takes to turn the struggling economy around. A full 58 per cent say they are "not confident" that the economy will improve if Obama wins a second term, while 52 per cent expressed a similar lack of confidence in Romney.
Romney has made only slight gains in the weeks since he chose Paul Ryan, the powerful House Budget Committee chairman, as his running mate.
And while Ryan's plans to overhaul entitlement programs like Medicare, the government health care program for retirees, are viewed negatively by about two to one, according to the survey, a full two thirds of respondents said Romney's VP pick would make no difference in their vote, with the remainder evenly split on whether it makes them more or less likely to vote for Romney.
Obama's re-election campaign has battered Romney, a multimillionaire investor and former governor of Massachusetts, for his refusal to release more than two years of tax returns, but just 20 per cent of respondents see Romney's handling of his taxes as a major issue.
Obama holds some longstanding advantages, including double-digit leads on social issues, women's issues and likability.
A majority of voters also said he would be a better guardian of the middle class, although most also said they see Obama as favouring a bigger government than Romney wants.
- AFP