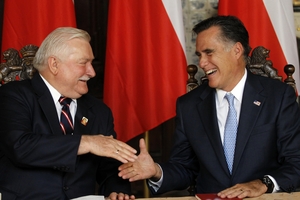 White House hopeful Mitt Romney has received a warm welcome from Poland's anti-communist freedom icon Lech Walesa as he made his first venture beyond the old Iron Curtain.
On the final leg of a three-stop tour designed to burnish his foreign policy credentials, the Republican contender chose to visit a country that has notably testy relations with Russia and is now a pillar of NATO and the EU.
Walesa, who has been openly critical of US President Barack Obama, a fellow Nobel Peace laureate, made no secret of his admiration for Romney.
Walesa, Poland's first democratically elected president after the 1989 demise of communism, said it would be "naughty and inappropriate" to endorse Romney directly, but told reporters he was "very keen" on him.
"We think alike, we have a similar vision when looking for solutions for the 21st century based on values ... and on people with values," he said.
"He's very open, and brimming with values, his wife is always by his side, he's got five kids - we're very much alike, I really like him and am pleased we met," said 68-year-old Walesa, himself a father of eight.
The meeting with the former Gdansk shipyard electrician who won the 1983 Nobel Peace Prize for galvanising the Solidarity trade union was seen as an opportunity for Romney to connect with working-class US voters ahead of the November presidential election.
At the Gdansk Shipyard on Monday, Romney laid a single white rose and his wife Ann a red rose - the colours of Poland's national flag - at a monument outside the gates dedicated to dozens of protesting workers killed by the regime in 1970.
Prime Minister Donald Tusk, a former Solidarity dissident, had earlier greeted Romney at Gdansk city hall, saying in Polish "Welcome to my home city!" as a crowd of about 1000 people gathered.
In 2009, Walesa and late Czech anti-communist leader Vaclav Havel penned an open letter lambasting Obama's revamp of an anti-missile shield in Poland and the Czech Republic planned by his Republican predecessor, George W Bush.
A host of former leaders in the region signed on to the statement casting doubt on US policy in the region in the face of what they dubbed a "revisionist" Russia.
Romney made no public comments on Monday but is due to make a speech in Warsaw on Tuesday - which he could use as a platform to attack Russia - and meet President Bronislaw Komorowski.
Romney's Poland trip follows stops in Britain where the Utah 2002 Winter Olympics guru ruffled feathers by questioning the security readiness for the London games.
In Israel, he backed Israel's right to thwart Iran's nuclear ambitions, but drew fire from the Palestinians for endorsing Jerusalem as the capital of the Jewish state.
-AFP