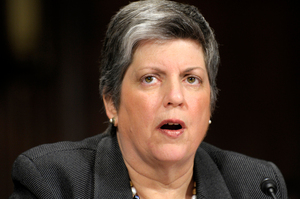 A visit by a United States Coast Guard vessel is not on the agenda, US Homeland Security Secretary Janet Napolitano said in Wellington yesterday.
Prime Minister John Key conveyed an invitation when visiting Washington last year, but she told the Herald it hadn't been considered.
"We have a lot of things going on but we haven't discussed the Coast Guard actually coming into New Zealand. It's really just not on the agenda."
The United States was working practically with New Zealand in many ways on maritime security, fisheries security, emergency response, travel, trans-national crime, and Customs.
Mr Key and the previous Labour government regarded a Coast Guard visit as a possible compromise to the US' continuing ban on naval vessels entering New Zealand ports.
But the US has set out to demonstrate a new era of co-operation, including the Wellington Declaration of 2010.