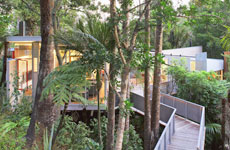 A tree house at Titirangi and an upmarket Ponsonby pad with sweeping city views are two of the Auckland houses that took top honours in the latest regional architecture awards.
The Institute of Architects chose an artist's residence developed near the house of the late painter Colin McCahon as one of the finest new places built in the northern area.
National awards will be announced next month but the institute has just released its best places in the northern, central and southern regions. Many Auckland houses featured in the northern regional awards.
Pete Bossley Architects won a northern regional award for what the judges said was a deceptively simple house and studio, carefully lifted and threaded on a steeply sloping stand of kauri.
"Without resorting to deference or imitation, the McCahon artists' residence contrasts the original McCahon house with delicacy, elevation and scale. It is a successful and fitting neighbour," said the judging panel, headed by Richard Naish of RTA Studio.
Patterson Associates won a regional award for a Ponsonby house that the judges praised for its simplicity and courage.
"On a cusp of the energetic commercial strip of Ponsonby Rd and the clusters of cottages clinging to the slopes of Freemans Bay sits a house that both hides and seeks," they said.
"While its entry level draws one immediately to its commanding view of the Auckland cityscape, its lower level sumptuously hides its inhabitants from the city above. This is a clever experiment in the condition of inner-city urban living that produces powerful but polarised experiences of occupation.
"A courageous client has enabled a full expression from their architect."
The judges examined the relationship of a building to its site and context, design quality, building form, structure and spatial qualities.
User satisfaction, the use of colour and materials and environmental aspects were also taken into account.
The main consideration for the judges in assessing projects was how well a building resolved key design issues and then how the structure contributed to the advancement of architecture.
The awards were sponsored by Resene.
OTHER WINNERSHOUSES
* Beachfront Onetangi house (Stevens Lawson)
* Grey Lynn house (Cook, Sargisson, Tarrant & Pirie)
* Stanley Pt house (Geoff Richards)
* Bach on Gt Barrier Island (Herbst)
* Westmere house (Stevens Lawson)
PUBLIC BUILDINGS
* Auckland's former Chief Post Office (Jasmax/Mario Madayag Architecture/Salmond Reed Architects)
* Clooney restaurant in Sale St (Fearon Hay)
* Franklin District's new library and arts building (ASC)
* Sovereign House in Northcote (Bligh Voller Neild/Jasmax)
* Manurewa's Alfriston College (Warren and Mahoney)
* Waitakere's Civic Centre (Architectus/Athfield Architects)A house that both hides and seeks.Judges' comment on the Ponsonby house
By Anne Gibson @Anne Gibson

Email

Anne