America's winter resorts offer more than just skiing, writes Karen Schwartz.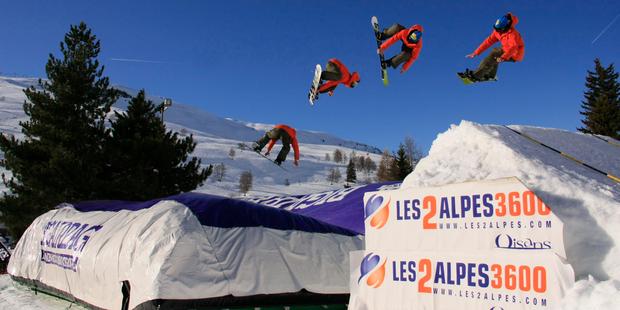 After nearly 50 years of living in the Rocky Mountains, I thought I knew how to enjoy winter.
I have gone skiing, skating, snowshoeing, snowmobiling, tobogganing, sleigh riding, dog-sledding and more.
But until this winter, I'd never heard of bumper cars on a skating rink. And it wasn't until recently that I had my first chance to carve turns down a ski hill on a snowbike.
It's part of a global trend to provide visitors to ski resorts and other snowy destinations with a wider variety of choices, said Troy Hawks, managing editor of the National Ski Areas Association Journal. "What we're seeing is a larger swath of the family, you've got the grandkids all the way to the grandparents and all of them have their idea of how they want to spend their day," he said.
So, for a different spin on a snow-destination vacation, here are some things to look for:
Air bags
These massive, inflatable air bags are placed at the bottom of jumps to allow skiers and boarders to try flips and spins. Nail the landing on your feet and you ride off down the hill. Fail, and you have a soft landing. See bagjump.com or bigairbag.com for more details.
A high-tech spin on winter tubing, these snow body boards are inflatable sleds with moulded plastic runners on the bottom and handles on the top. The sleds can reach speeds of almost 100km/h, and users steer by shifting their body weight.
Bumper cars on ice
These are turning up at skating rinks across the USA. The battery-operated "cars" are large rubber tubes with moulded seats and are controlled by two joysticks; they are easy to steer or spin as they bump along on wheels with tiny cleats.
First tracks
The opportunity for intermediate and advanced skiers to take the first runs in the morning before the slopes open to the public is an option at more resorts. Some, like Northstar in California, require skiers to stay with a guide; others, like Aspen, in Colorado, include a gourmet breakfast. Steamboat Springs in Colorado has been experimenting with multiple day First Track passes.
Skijoring
From the Norwegian word meaning "ski driving", skijoring is still the stuff of winter carnivals and cowboy competitions. But some places, like Triple Creek Ranch in Darby, Montana, offer guests the chance to be pulled on Alpine skis behind a horse. Other resorts, like Eden Mountain Lodge in Vermont and Devil's Thumb Ranch in Colorado, work with experienced skiers and their own dogs to learn what it's like to go mushing on Nordic skis.
Ice castles
These massive ice castles are formed by thousands of icicles. Pathways take visitors through ice columns, tunnels, caverns and archways. Introduced last year in Silverthorne, Colorado, the castles were being built this winter in Steamboat Springs in Colorado and at the Mall of America in Bloomington, Minnesota.
Bicycles that ride on skis, rather than wheels, have been around for decades, but now some ski resorts rent them out. Smaller skis clip to your ski boots, helping with balance and maneuvering. The bikes can be taken on the chairlifts to access a variety of terrain.
Snowkiting
Snowkiting or kite boarding is a cousin to ocean kite surfing. For the winter version, an experienced, fearless skier or snowboarder is harnessed to a kite and uses wind power to propel themselves around. An extreme sport, it requires strength and an understanding of wind patterns. Lessons are recommended.
Further information: See DiscoverAmerica.com for more on winter holiday activities in the USA.
- AP