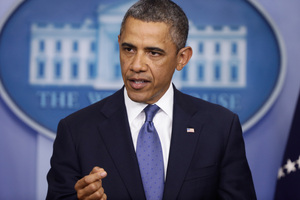 Barack Obama unveiled the most ambitious climate change plan ever put forward by a US president, saying he would not condemn future generations "to a planet that is beyond fixing".
In sweeping proposals released after four years of frustrated efforts, Obama ordered new curbs on carbon emissions from power plants and called for America to ready its defences against a changing climate.
The President also surprised environmentalists by signalling that he would reject a controversial oil pipeline if it was found to "significantly exacerbate" the problem of carbon pollution.
"I refuse to condemn your generation and future generations to a planet that is beyond fixing," Obama told students at Georgetown University in Washington. "As a president, as a father and as an American, I'm here to say we need to act."
The plan announced yesterday can be carried out by executive order and does not need Congressional approval.
Obama said he was imposing the first limits on carbon emissions from power plants, the single largest source of pollution in the US.
Coupled with new efficiency standards for vehicles, appliances and buildings, the limits are intended to help reduce carbon emissions by three billion tonnes over 17 years.
The plan commits to cutting hydrofluorocarbons, the "super greenhouse gases" emitted by refrigerators and air conditioning units, part of a deal reached last month with China.
The Government will also issue permits for wind and solar energy projects on Government land intended to power more than six million homes.
Coastal barriers would be strengthened to provide protection from storms, while farmers will be given more support in the face of drought and wildfires.
The overall plan is intended to help meet Obama's pledges to the United Nations climate change summit in Copenhagen, where he promised that by 2020 the US would cut emissions by 17 per cent from their 2005 levels.
Obama's proposals were largely applauded by environmental groups.
"President Obama is really resetting the climate agenda and it's a wonderful thing to see that he's reclaiming this issue," said Andrew Steer, president of the World Resources Institute.