With Dean Barker taking his feud with Russell Coutts to San Francisco Bay later this year, plenty of kiwis will be heading over to support him. But outside of the wealthy boys and their toys, here are five very cool things to do in San Francisco.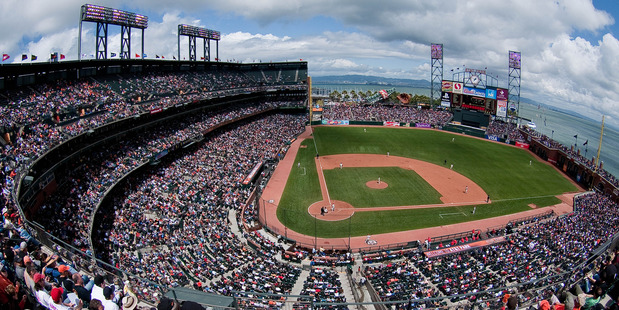 Baseball Game
There's nothing as truly American as sitting in the stands at a ball game. Get along to AT&T Park on the waterfront, the home of the Giants, load up with a chilli dog and a beer and enjoy a rousing rendition of the Star Spangled Banner before play. FYI, clear your throat because at the end of the sixth inning you'll stand again to sing Take Me Out to the Ball Game.
Alcatraz
Take one of the tour boats and go out to the Rock in the middle of the bay. Walk around the frigid prison cells and hear stories via your headset of Al "Scarface" Capone and "Birdman" Robert Stroud who were here between 1934 and 1963. Book in advance though because they can sell out days in advance.
Cycle the Golden Gate Bridge
On a sunny day this three kilometre bike ride across the mouth of San Francisco Bay is magic. And if you're really feeling energetic you could continue on to the artsy neighbourhood of Sausalito for lunch. Rent your bike from one of the vendors at Fisherman's Wharf rather than Union Square to save time and bring a camera and a jacket because it can get breezy up there.

Fisherman's Wharf
This is where all the action is. The ferries to Alcatraz and Sausalito leave from here among the seals barking on pontoons. The aquarium is down here too. But take the F-line streetcar along to Pier 39 as it's a mighty long walk. Eat crab chowder in a sour dough bowl, visit Madame Tussauds and shop for souvenirs.
Shop around Union Square
Only a handful of shops are in the Square, mostly notably Macy's where international visitors can get a 10% discount voucher, but it's a great place to people-watch. Market Street has a huge Westfield Mall and just opposite, where they manually turn the cable cars around on a giant turntable and send them off again, are several more not to be missed.
- nzherald.co.nz