Rob McFarland chooses his own adventure on America's scenic Blue Ridge Parkway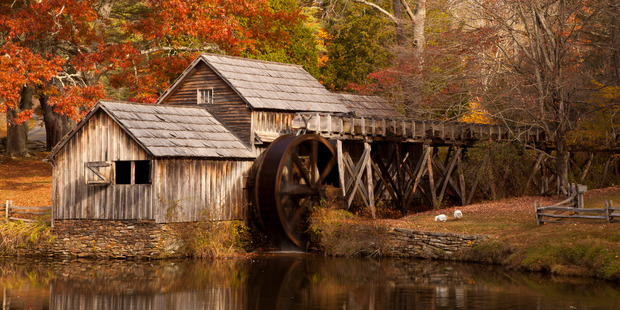 National Park Ranger Jan wasn't going to let a spot of rain ruin the party. The ominous purple clouds in the distance were moving closer, so it was time for plan B.
"Looks like we got some rain comin' our way, so why don't y'all just come up here on stage."
So we did. Packing up our chairs, we climbed on to the covered stage and joined 100 or so other music enthusiasts in a semi-circle around the band.
The Red Stick Ramblers seemed unfazed by the invasion and launched into an acoustic set of toe-tapping Cajun fiddle and Western swing tunes. Two girls in cowboy boots got up and performed an impromptu line dance to riotous applause before three local musicians joined the band for a furious finale of guitar, banjo and fiddle playing. It was one of the best concerts I've been to.
The venue for this celebration was the Blue Ridge Music Center in Virginia, which aims to preserve the bluegrass and old-time mountain music that originated in the area.
It's one of dozens of attractions scattered along the 755km Blue Ridge Parkway (BRP), which winds its way through the Appalachian Mountains of North Carolina and Virginia. The parkway celebrated its 75th anniversary in 2010 and is an engineering triumph, navigating difficult terrain to produce a series of stunning lookouts.
But more than that, it's an impressive exercise in restraint. There are no petrol stations, fast-food outlets, chain stores or billboards here. Instead, you can expect a meandering, sun-dappled, single-lane road bordered by rhododendrons and dense forests of oaks, ashes and firs. Commercial traffic is banned, and rather than intrusive steel crash barriers, you'll find wooden fences and handsome stone archways.
The road is marked with milepost markers; we joined it at milepost 390, near Asheville, North Carolina, with the intention of heading north.
In many ways, the choose-your-own-adventure nature of the parkway is its greatest asset. Nature lovers can plan an itinerary around the many spectacular gardens, such as Craggy Gardens at milepost 363. Hikers will be more interested in the wide range of well-marked tracks that dive off into the forest or scale rocky outcrops. Cultural enthusiasts can visit the many heritage attractions, such as the Folk Art Center at milepost 382, or Mabry Mill at milepost 176. Adrenalin addicts can zip-line through the trees with Scream Time Ziplines near milepost 290, or take on the icy waters of the Nantahala River with Wildwater Rafting outside Asheville.
Whatever your passion, I challenge anyone not to be impressed with the sheer majesty of the views across the tree-carpeted Appalachians. Autumn is particularly impressive, when the hillsides explode in a dazzling palette of vivid reds, yellows and oranges.
There are nine designated campsites along the BRP, but they're basic, with no showers or laundry facilities. As we were travelling in a rented RV, we chose to head off the parkway and stay in nearby campgrounds run by Kampgrounds of America (KOA) so we could hook up to water, power and sewerage.
Foolishly, we failed to realise that our trip would span Memorial Day Weekend, one of the US' most popular holiday weekends. Come Saturday afternoon, we still didn't have anywhere to stay, until a helpful park ranger got us one of the last spots in a trailer park near Waynesboro, Virginia.
I'd heard about trailer parks where people live permanently, drive around in golf buggies and erect white picket fences around squares of artificial grass dotted with ornamental gnomes. But staying in one on Memorial Day Weekend among a frenzy of American flags, all-day drinking and Kenny Rogers karaoke was another matter.
It's a side of America that's as far removed from the sophisticated urban centres of LA and New York as you can imagine. But in its own way, it's equally compelling.
For one night, at least.
IF YOU GO
Getting there: United Airlines flies to a range of cities on America's east coast.
Where to stay: KOA has more than 450 campgrounds across North America.
Getting around: El Monte RV has America's largest selection of motorhomes for rent with locations across the US.
Websites: blueridgeparkway.org, blueridgemusiccenter.org, discoveramerica.com.
Rob McFarland was a guest of United, El Monte RV and KOA.