Locals blamed gangs for murder of District Attorney, his wife and colleague but truth proved closer to home.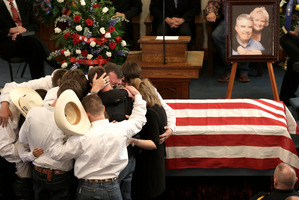 At the entrance to the Kaufman County Courthouse stands a statue of a Confederate soldier, a memorial to those killed fighting for the South during the Civil War.
Close by, tied to the trees that surround the court building in Kaufman's modest town square, is a more contemporary tribute: green ribbons, in memory of District Attorney Mike McLelland, his wife Cynthia, and his colleague, prosecutor Mark Hasse.
All three were shot dead recently - killings that have shaken not only the town, but the whole state of Texas.
In the weeks after the murders, many locals were convinced the victims had fallen foul of sinister outside forces: Mexican drug cartels, or a white supremacist gang. But the authorities have revealed the unsettling truth - that the alleged killers came from very close to home.
On the morning of January 31, 57-year-old Mark Hasse, Kaufman's assistant District Attorney, left his car in the car park one block from his workplace.
As he walked towards the courthouse, witnesses watched in horror as a man in a black hooded sweatshirt accosted Hasse, pulled out a pistol and shot him several times.
Following Hasse's murder, security was tightened around the courthouse. Cynthia McLelland admitted to local reporters that she feared for her husband's safety. But Mike McLelland would not be intimidated. "I'm not going to let [the killers] make me change the way I do business," the DA was quoted as saying. "I must assume that would be part of their motivation, and that ain't happening."
McLelland, who was 63, and his wife, 65, were pillars of the community. Cynthia belonged to a local quilting guild, which meets at the 2 Sisters Quilt Shoppe across the street from the court building. The couple regularly ate lunch together at the Especially For You tea room on the far side of the square. "They were very sweet people," said Lori McWha, 46, the tea room's proprietor. "What happened to them was heart-breaking."
Shortly before 7pm on March 30, unable to contact them by phone, friends went to the McLellands' detached red-brick home on Blarney Stone Way, a quiet residential road a few kilometres from Kaufman. They found Cynthia's body just inside the front door. Her husband was killed further back in the house. He was wearing his pyjamas.
Public suspicion fell on the Aryan Brotherhood of Texas (ABT), a notorious white supremacist gang. Both Hasse and McLelland had been involved in bringing a major federal indictment against members of the ABT in November 2012. Experts said the killings were uncharacteristic of the gang, which rarely targets justice officials.
When McLelland first ran for the post of District Attorney in 2006, he found his candidacy opposed by Eric Williams, a fellow Republican, who publicly questioned his character and suitability. McLelland lost that election, and there was bad blood between the men ever since. Four years later, both were voted into office: McLelland as District Attorney, Williams as a Justice of the Peace.
In 2011, McLelland's office accused Williams of the theft of three county-owned computer monitors. Williams claimed he'd borrowed the monitors in the course of judicial business, and that the charges stemmed from a misunderstanding. In court, his lawyer claimed the case was "an attempt to settle a political grudge". But Hasse, prosecuting, described the supposed thefts as "evil", while McLelland said Williams was "bereft of honour".
Jenny Parks, a local bankruptcy lawyer who worked with Williams, later told the Dallas Morning News, "The whole thing was a witch hunt, and anyone in the legal community here knows that".
Williams, now 46, was convicted in April 2012 and sentenced to two years' probation. He lost his job and his law licence, and with them his health benefits. His wife Kim, also 46, testified at his trial that she suffered from a selection of debilitating conditions. Eric was her primary carer, and also looked after a cancer-stricken father-in-law, and a mother-in-law who had suffered a stroke.
On April 12, police arrested Williams on charges of making a "terroristic threat". An email sent anonymously to Kaufman County officials the day after the McLelland killings, warning of further attacks, had originated at his computer. Police found guns matching the murder weapons at the Williams home.
His wife Kim made a chilling confession: her husband had indeed shot Mark Hasse and the McLellands - and she had driven with him to both murders. The couple were charged with capital murder; both could face the death penalty.
- Independent