Fashion designer Adrian Hailwood heads to Hawaii for a week of glamour and high living.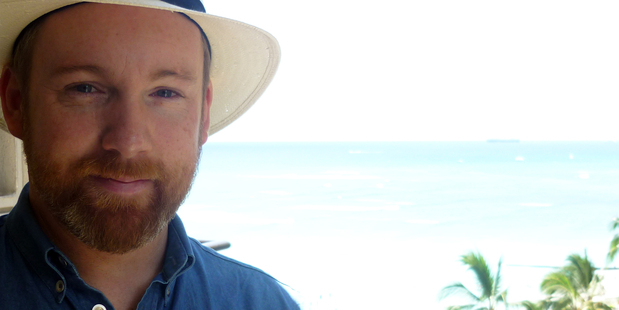 The Hawaiian islands are the perfect place to take a short, revitalising break. I hadn't been there since I visited 20 years ago to play water polo, so three girlfriends and I packed our swimsuits and sunblock and headed to the island of Oahu.
Our rather delayed flight saw us arrive at two in morning and wait around like lemmings on the edge of a cliff while US Customs took an hour and a half to process one plane-load. It didn't really matter, as we immediately felt like we were on island time and slipped into blissful grins with pina colada drinking thoughts.
Our base on the island was to be the gorgeous Fantasy Island-style hotel the Moana Surfrider. A Westin resort, it is the oldest luxury hotel in Hawaii and sits right in the middle of Waikiki Beach. For our first full day in the sun, we stretched out on our hotel cabana chairs, making the most of the drinks service and having lots of swims with the resident giant turtles who live all year round along Waikiki Beach.
The food in Hawaii, like the rest of America, is never a small serve - so you either spend your week micromanaging your fried carb intake or just going with the flow and stuffing everything in.
Which is what we did to start, enjoying every guilt-free mouthful of doughnut...
Two days on and we were craving slivers of raw fish with lettuce sprigs, so off to the fabulous Nobu for a micro dinner we went. Whoops - we took the "more is more" option yet again, sampling everything on the menu. My new beach shorts and togs from Nieman Marcus were starting to feel a little snug.
As our trip was only six days long, it would have been all too easy to stay at the spa, drinking green tea, having coffee body rubs and doing yoga under the banyan tree. But instead, just like Charlie with his angels, I raced all over the island.
We hired a muscle car - a charcoal-grey convertible Mustang - and with the radio blaring with such tasteful tunes as Tiffany's I Think We're Alone Now, we drove across to Kailua. Here we spent the day at Lanikai Beach, which is stunning with its crystal clear waters and fine white sand.
Unfortunately, it was a little on the breezy side and soon our freshly sunscreened bodies were covered in sand and other flying debris. Oh well, only one thing for it - we zoomed back across the middle of the island to Waikiki and "pou pou on the lanai" (drinks at the bar).
Another night, following the suggestion of the local taxi drivers, we found ourselves at the old Blaisdell Arena (where Elvis played his last concerts) for a night of 80s glamour with fabulous performances by the likes of En Vogue, Expose, Lisa Lisa, Sweet Sensation and Karen White. En Vogue were great and the track they did with Salt-N-Pepa was smoking.
Checking out the crowd, I couldn't help but notice that white jeans were obviously making a comeback on the island and oh boy, they know how to fill 'em.
The ladies were sporting these with gold slingbacks and hoop earrings - very Lil' Kim. We were dancing in the aisles and spinning around with all these Pacific goddesses - it was a fantastic night.
Oahu has one of the biggest luxury shopping malls in the world, the Ala Moana Center. Here you will find everything from Miu Miu to Nieman Marcus to the Nordstrom department store. Don't miss See's Candies for the best chocolates on the planet. Meanwhile, the main street of Waikiki sported Prada, Dior, Kate Spade - you name it, it is there. I couldn't resist a pair of boots and new sunglasses from the YSL store.
We had been told Leonard's Bakery was the place to find the world's best doughnuts, so we tracked these golden-fried, sugary goodies down and lined up with the rest of the doughnut- craving locals and tourists. Our mouths were watering as we dug into a box with 12 different flavours.
One of the only disappointing day trips was our outing to Hanauma Bay Marine Reserve. My 22-year-old memories of the Bay were favourable, but a lot has changed since. It took two hours of queuing in the morning heat (30C) to get down to the beach (serious people-herding), which included a movie on how not to touch Nemo and not to feed him and his mates. I would not recommend this outing to anyone... hideous. Instead, buy a child's lilo from the one of the numerous ABC stores (they cost $3 and they blow them up while you wait) and float about at one of the local beaches; it's far more enjoyable.
Mahalo Hawaii.
Adrian's little black book
Moana Surfrider, A Westin Resort & Spa
2365 Kalakaua Avenue, Honolulu, HI 96815
Phone: 808 922 3111
A great hotel that has everything and more. It's one of the higher-end places to stay but if you're away for only a week or less then it's worth spending a bit more, especially if you're action-packing your days. The rooms are huge and beach-facing with all the mod cons.
Blaisdell Arena
777 Ward Avenue, Honolulu, HI 96815
Phone: 808 768 5400
Check out online to see who is playing before you go. We had a great night out and would never have thought to go along, but we were really glad we did. Our tickets were only $45 and were placed in the $100 seats _ the arena is huge.
Nobu Japanese Restaurant
2233 Helumoa Rd, Honolulu, HI 96815
Phone: 808 237 6999
Although this restaurant is part of a chain, it is one of the best, most consistent wherever you go. We had great tuna and the crab dish was amazing. The wine menu is also excellent with plenty of great choices from the mainland.
Discount Hawaii Car Rental
Phone: 1800 292 1930
Service includes hotel pick-up and drop-off. The cost for a convertible Ford Mustang was $70 for 24 hours or $270 a week (a total bargain). Insurance is on top of this - about $150 for the week.
Kailua Beach, Oahu Island
This beach is often rated as the best in the world. It is stunning and is often empty of tourists, which can be a nice contrast to Waikiki. This beach is great for windsurfing and snorkelling and also has plenty of secluded areas for privacy. Check out Lanikai, the next beach over. It's Oahu's equivalent of Malibu. (One hour's drive from Waikiki.)
Oahu Hawaii Tours
Phone: 702 749 5668
For a treat, go for a 45-minute helicopter ride over the active volcano or out to the sacred falls. The cost is from $170 to $300, cheaper with group bookings.
Leonard's Bakery
933 Kapahulu Ave, Honolulu
This institution has been here since 1952 - the queues snake around the block but if you get there early it's not so hot and queues not so long. Regardless, it's worth the wait. The malasadas (filled doughnuts) come in a pretty pink cardboard box - get all the flavours and tell yourself you'll hit the treadmill again when you get back home.
Yves Saint Laurent
2114 Kalakaua Avenue, Honolulu
Phone: 808-924-6900
My favourite French brand for shoes and accessories.
- VIVA