United States leader expresses support as he and Netanyahu talk tough over Iran.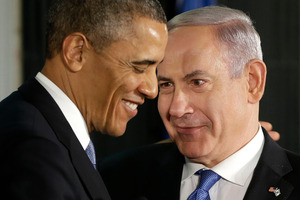 Eager to reassure an anxious ally, President Barack Obama yesterday affirmed Israel's sovereign right to defend itself from any threat and vowed to prevent Iran from obtaining nuclear weapons. He said containment of a nuclear-armed Iran was not an option.
Meeting with Israeli Prime Minister Benjamin Netanyahu on his first visit to the Jewish state as President, Obama said the United States would stand by Israel in any circumstances that required it to act to protect its people. He said the US and Israel would start talks soon on a new, 10-year security co-operation package to replace one expiring in 2017.
Obama also pledged to investigate whether chemical weapons were used this week in neighbouring Syria's two-year-old civil war, something he said would be a "game-changer" for US policy. In addition, he said he would continue to urge Israel and the Palestinians to relaunch the moribund peace process.
At a joint news conference, Obama and Netanyahu, who have sparred numerous times, presented a united front on Iran.
They stressed repeatedly that all options were on the table to keep Iran from acquiring an atomic weapon if the diplomatic track failed. And they brushed aside apparent differences over when military action would be required.
"We will do what is necessary to prevent Iran from obtaining the world's worst weapons," Obama said, calling a nuclear-armed Iran a threat to Israel, the greater Middle East and the world.
Although Obama did not promise that the US would act militarily against Iran if Israel decided that must be done, he offered endorsement for Israel to take whatever unilateral safety measures it deems necessary.
"Each country has to make its own decisions when it comes to the awesome decision to engage in any kind of military action and Israel is differently situated than the United States.
"I would not expect that the Prime Minister would make a decision about his country's security and defer that to another country any more than the United States would defer our decisions about what was important for our national security."
Netanyahu seized on the remarks, saying they were an important demonstration of America's steadfast alliance with Israel.
"I am absolutely convinced that the President is determined to prevent Iran from getting nuclear weapons," he said. "I appreciate the fact that the President has reaffirmed, more than any other president, Israel's right and duty to defend itself by itself against any threat."
Obama also took note of the difficult way forward in the broader quest for Mideast peace, saying that in recent years "we haven't gone forward, we haven't seen the kind of progress that we would like to see".
The President said he came to the region principally to listen, and hoped to return home with a better understanding of the constraints and "how the US can play a constructive role".
Netanyahu, for his part, said he was willing to set aside preconditions in future talks with the Palestinians, adding that it was time to "turn a page in our relations".
Obama is to meet Palestinian Authority President Mahmoud Abbas in the West Bank today.
- AP