Government can continue operating but big budget cuts will hit federal workers.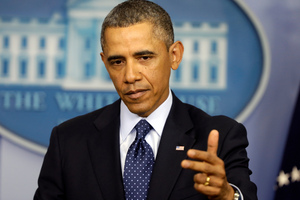 The United States Senate yesterday approved a huge spending bill to keep the Government open until the end of September, preventing a shutdown next week but locking in US$85 billion ($102.8 billion) in budget cuts that will mean job furloughs for hundreds of thousands of federal workers.
The bipartisan 73-26 vote in the Democrat-controlled Senate sends the measure to the Republican-controlled House of Representatives, which is expected to approve it today and send it to President Barack Obama for his signature.
The vote was a rare thawing of the partisan deadlock gripping Washington. Although the bill ensures there will be no interruption of routine government funding, more battles over spending loom.
The legislation provides US$982 billion for federal agencies to remain in operation until the September 30 end of the budget year.
It provides US$87 billion funding for overseas military operations in Afghanistan and Iraq and maintains a pay freeze for federal workers.
The measure gives the Pentagon much-sought relief from a cash crunch in spending on training and readiness and gives veterans' health programmes their scheduled increases.
Republicans and Democrats in Congress have struggled with two goals in approving the spending bill - preventing a government shutdown and trying to ease the impact of across-the-board spending cuts that took effect this month.
Those cuts were set in motion when the White House and Congressional Republicans could not agree on a better plan for addressing the US deficit. Republicans insisted on a plan that included only spending cuts, but Democrats demanded tax increases.
If the House goes along with the Senate bill, as expected, the automatic budget cuts, vigorously decried by Obama last month, will remain in effect for the rest of the fiscal year, to August 31.
Some adjustments will be made.
The overall legislation locks in the US$85 billion in spending cuts through to the end of the budget year, but gives several departments and agencies flexibility in coping with them.
It extends flexibility to the Pentagon, the departments of Homeland Security, Veterans Affairs, Justice, State and Commerce and the Food and Drug Administration.
- AP