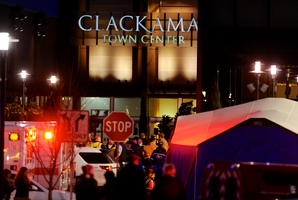 A gunman who killed two people at a US mall before taking his own life could have wreaked "much worse" havoc, but his rifle jammed, police said today a day after the latest US random shooting.
Officers named the shooter, who wore a hockey-style mask as he opened fire in a crowded pre-Christmas mall and had several full magazines of ammunition to re-load his stolen semi-automatic AR-15 rifle, as Jacob Tyler Roberts, 22.
"This was a heartbreaking tragedy by any standards," said Clackamas County Sheriff Craig Roberts, giving a blow-by-blow account of the shooting Tuesday near a Macy's department store in Clackamas, south of Portland, Oregon.
But he said: "We need to be thankful that this incident wasn't much worse." "It appears that the suspects rifle did jam when he was attacking individuals" in a food court, he noted.
Nearly 100 officers swarmed into the mall after multiple 911 emergency calls reported a gunman on the loose, he said, praising the "level-headed" response of an estimated 10,000 people in the shopping center at the time.
The two victims of the shooting were named as Mathew Forsyth, a 45-year-old local man who owned a business in the mall, and Cindy Ann Yuille, 54. A female 15-year-old remained in serious condition in hospital, Roberts added.
The shooter had stolen the rifle earlier in the day, and was wearing a mask, a "ballistic load-bearing vest" and "carrying several fully-loaded magazines," he told reporters.
Local media reported that he shouted "I am the shooter" as he opened fire.
After killing two people in the food court in the center of the mall his rifle jammed. Although he managed to get it working again, he then made his way along a shopping parade and down some stairs before taking his own life.
"All the evidence (indicates) that he did die of a self-inflicted gunshot wound," said the sheriff, adding: "This was a sole person acting on his own, by all indicators that we have at this point."
There was no clear motive for the attack, the latest apparently random shooting in the United States which repeatedly revive debate about gun control laws.
"It looked as though it was a random shooting," Roberts told NBC's Today showm, adding: "It's very apparent he had a mission set forth to take the lives of people in that mall."
Clackamas County Undersheriff Matt Ellington told CNN: "We do not have an idea on the motive ... But ... the information we have at this point leads us to believe that there is no connection between the suspect and the victims."
Police have not determined how many shots were fired. The Oregonian newspaper cited a staff member, sports columnist John Canzano, as saying he heard as many as 60 shots fired while he was shopping at the mall.
In July this year a 24-year-old, James Holmes, allegedly killed 12 people and wounded 58 others when he opened fire in a midnight premiere screening of the latest Batman movie "The Dark Knight Rises," in Aurora, Colorado.
Last month, gunman Jared Loughner was jailed for life for killing six people in Tucson, Arizona, in January 2011 in an attack targeting congresswoman Gabrielle Giffords, who was shot in the head at point-blank range but survived.
- AFP