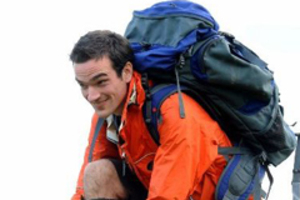 Fancy going for a walk and returning six months and six pairs of shoes later?
Spare a thought for Dunedin graphic artist Jeremy Star, who is about to embark on a 4265km hike from Mexico's northern border to the United States' border with Canada.
As those from the US of A would say, that's 2650 miles away.
Mr Star plans to walk the entire Pacific Crest Trail, one of the United States' national scenic trails, which spans the three western states of California, Oregon and Washington.
The journey is equivalent to walking the length of New Zealand almost three times.
It comprises rugged high desert, glaciated expanses of the Sierra Nevada, and volcanic peaks and glaciers in the Cascade Range.
Boasting the greatest elevation changes of any of America's national scenic trails, it allows hikers to pass through six of North America's seven eco-zones including high and low desert, old-growth forest and alpine country.
Mr Star will have to leave home comforts, like warm showers, at home in Dunedin while he wanders the western expanse of America.
His greatest threats, aside from the weather, will be rattlesnakes and bears.
Last year, about 130 people claimed to walk the entire trail, which has been open since 1952.
Mr Star will travel the route with an American friend he met while hiking the 800km El Camino De Santiago trail across northern Spain in 2010.
The pair plan to start their trek on May 1 from the Mexican border and average 35km a day to arrive in Canada during October.
Mr Star has a six-month visa, allowing for a five-and-a-half-month trek with two weeks' lee-way.
"It's a fairly rigorous schedule but we will break when we need to," he said.
The trail regularly passes through towns and the most Mr Star will have to carry at any one time in his 75-litre pack is provision for eight days.
Apart from the odd weekend walk, he has not trained but expects the eight or nine-hour days to get easier.
"It's a bit daunting, especially as I get closer to the date, but I'm excited at the same time. You have to be confident to do it in the first place, and although it's bigger than anything I've attempted in the past, that is what makes it rewarding," he said.
Mr Star has travelled extensively through Europe but never before experienced America.
Walking was a great way to see the places between destinations and attractions, he said.
"I really enjoy those experiences, going to places where they don't get a lot of tourists. You get a real feel for the place and it's a nice simple lifestyle away from electric lights.
"It's very uncomplicated and being forced to live in the present seems healthy," he said.