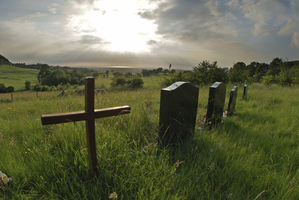 The bodies of an elderly couple who mysteriously disappeared 15 years ago were unearthed in their own backyard last month.
The Midlands couple's daughter and son-in-law have been charged with the murders.
William and Patricia Wycherley, a retired merchant sailor and his wife would now be aged 100 and 79 years old.
The couple vanished from Mansfield around 1998 but were never reported missing.
After police received a tip-off about an incident at their semi-detached house at the time of their disappearance, officers began digging in the garden.
Susan Edwards, 55, and her husband, Christopher, 57, were arrested at London's St Pancras International station and have been remanded in custody.
Neighbours said after the Wycherleys disappeared, rumours circulated locally that they had moved to Ireland or to the coast.
Nottinghamshire police are waiting for forensic test results but detectives say they are confident the remains are those of the couple.