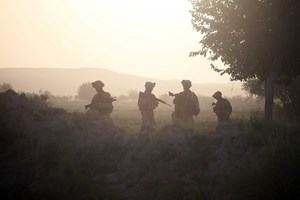 A prisoner was murdered in cold blood in Afghanistan by a Royal Marines patrol after they found him lying injured and helpless in a field, a court martial has heard.
Footage of the alleged "battlefield execution" of the Taliban fighter in Helmand two years ago was recorded by the helmet camera of one of the alleged killers and shown to the proceedings at a British military tribunal in Bulford, Wiltshire.
Leaning to fire a bullet into the chest of the young Afghan covered in blood, a sergeant in charge of the group was heard to say: "There you are, shuffle off this mortal coil you c**t, it's nothing you wouldn't have done to us."
Turning to other marines, he added: "Obviously this don't go anywhere, fellas, I've just broken the Geneva Convention."
The victim was left twitching and gasping for breath as the British servicemen, apprehensive that they might have been spotted, pretended to give him first aid.
They then called their base, saying the man had died from the injuries he had already suffered in a helicopter strike, the court was told.
There have been several high-profile prosecutions of British service personnel over killings of civilians in Iraq but this is the first case of UK personnel charged with murder in the course of the mission in Afghanistan.
The alleged killing came when the Taliban was carrying out indiscriminate bombings of both civilians and Western forces in Helmand, the court was told.
The Royal Marines' 42 Commando Brigade suffered seven deaths and 42 injuries.
Three members of the brigade - a sergeant, a lance corporal and a marine - face charges of murder on September 15, 2011.
Their identities cannot be made public under a court order.
- Independent