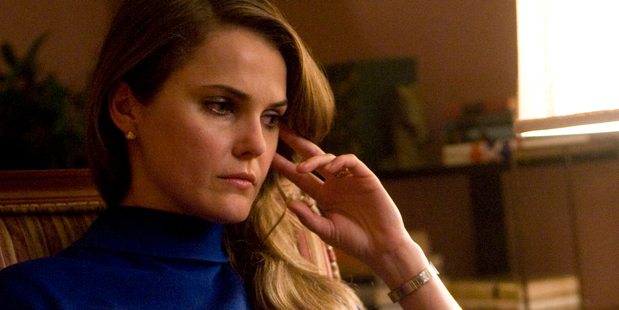 Am I just being paranoid, or is paranoia the hip, hip, hippest new thing on the box? There's Homeland, of course, which is three-parts nutso paranoia about Islamist terrorism and five-parts silliness and overacting. There is Boardwalk Empire, which is three-parts fancy production design and five-parts paranoia involving every character being out to get every other character as long as there's a profit to be made. Then, of course, there's The Walking Dead. It, like me, is paranoid about the coming zombie apocalypse.
And now there's The Americans (TV3, Mondays, 9.30pm), which is channelling old-school paranoia about there being Reds under the bed - or at least living in the lovely house across the road.
This new drama from US cable network FX sets itself in 1981, a year in which I was in the fourth form, Ronald Reagan ascended to the presidency, and the Cold War, thanks to Ronnie's "evil empire" carry-on, went from a low simmer to a hard boil after a decade of detente.
So, plenty of paranoia about then, particularly for The Americans' Phillip and Elizabeth Jennings (an oddly lugubrious Matthew Rhys and a not-very-good Keri Russell), an all-American couple who just happen to be deep-cover spies living in a nice, quiet Washington DC suburb.
They are KGB agents who, we discovered from the dull but regularly timed flashbacks during Monday night's extended opening episode, were trained in the early 1960s and deployed to the States in 1965. They have since had two sprogs and bought a nice house and a nice car.
The plot, so far as I could determine, had something to do with the Jennings botching a mission to return a Soviet defector to Russia so he could be shot for defecting.
Eventually Phillip strangled him in his garage, though this seemed to be revenge for the defector having raped Elizabeth when she was a trainee spy.
I'm not sure whether my failure to get to grips with the plot was because it was so damn hard to follow, or that it had just failed to engage me and I drifted off in my own flashbacks.
However, the opening episode was about establishing the show's central paranoias - that the Jennings have differing views about the job (he'd quite like to defect); that the couple are desperate for their all-American children not to know that their parents are dirty Commie spies; and that the guy who has just moved in across the road (Noah Emmerich) doesn't find out that the Jennings are spies because he, how convenient for future episodes, is an FBI counter-intelligence agent.
You'd think that was enough paranoia for any show - but no, it turns out viewers should also be paranoid about the 1980s setting, because it's given The Americans' makers carte blanche to dress their characters in bad suits and stupid wigs while the Jennings go about their secretive business to such dire songs as, God help us, Phil Collins' In the Air Tonight. Grrr.
The Americans' premiere certainly did its level best to layer the complications and paranoias, but there is a hollowness to this drama. Rhys has at least established Phillip as a somewhat sympathetic character - albeit one who kills with his bare hands - but Russell plays Elizabeth with such a Cold War froideur that I struggled to care what she feels.
Like so much recent American drama, The Americans is asking its audience to cheer for anti-heroes; we are required to care about an all-American couple who just happen to be America's enemies. That might be enough to make it gripping, in these paranoid times, for Americans. But I can't help feeling that the spooks on The Americans are really no match dramatically for, say, Smiley's Cold War warriors in Tinker Tailor Soldier Spy.
And so from something that was big in the 80s - Cold War paranoia - to something, or rather someone, who was big in the 90s: Matthew Perry.
If there's anybody who should be paranoid, it's a star of a hit 1990s sitcom trying to make it in 21st-century television. Pretty much the entire cast of Perry's hit Friends and the equally huge 90s comedy (though it was Friends' comedy polar opposite) Seinfeld have failed, like so many George Costanzas, to find another successful TV comedy vehicle.
Perry, after a couple of flops, may well have found his next success with Go On (TV3, Tuesdays, 8pm) in which he plays a radio host who, after the recent death of his wife, is packed off to group therapy by his bosses.
Inevitably, Perry seems to be playing Chandler Bing - he's pleasingly full of grumpy sarcasm and shouty one-liners - and inevitably much of the comedy turns on the fruitloops who are in his therapy group. But it makes you smile: no bad thing among all the paranoia.