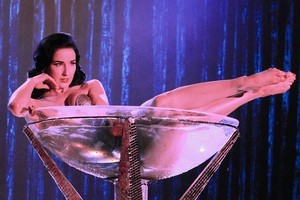 You have to wonder what television writers' motives are when they invite guest stars on their shows. A potential surge in ratings? An opportunity to bend the rules? Or a chance to carry out their fantasies? Justin Bieber was gunned down in a hail of bullets on CSI not long ago. That annoying little singer Taylor Swift was killed off too. Would burlesque artist Dita Von Teese meet a similar fate on TV3's CSI? And would it involve leather restraints?
She must have rendered the writers' minds futile when she agreed to be on Monday night's episode. What could have been a stylish homage to film noir in this week's episode turned into what can only be described as the chick flick version of SAW.
Greg fell in love with this teacher (Dita) who was actually a burlesque artist called Rita Von Squeeze, who turned out to be a psychotic person avenging the murders of her grandparents by setting up a sadistic mobile electric chair contraption with her ex-boyfriend. Jeez.
As well as the convoluted storyline, which might work in film noir but not in a one-hour drama, it was hard to know which parts of the script were written in jest. There were lines like "she smells like fresh peaches" and "for what it's worth, I've loved you since Tuesday" on top of the show's usual jocular gore: "Why can't people die closer to the road?" At one point, Rita and Greg had a phone conversation in which Greg told her he was making headway on the case. "Great news about the headway," she said.
Of course Dita also got to splash around in that giant martini glass of hers. She looked amazing. She also looked amazing trying to act. It didn't matter too much that she overdid it or that it felt contrived and a bit silly - this was film noir. There was silhouetted lighting and time-lapse editing, passionate embraces at train station platforms, a jumped shark. Since when do the CSI guys have private lives? And for a show with such advanced forensics technology, how come they can't make a photo look old? Some of the sepia-toned images looked like they'd been snapped on an iPhone.
Fortunately TV3's Law & Order: SVU had a better shot at upping the ratings and novelty value with another guest star episode on Tuesday, this time the very watchable Drea De Matteo. She played a staunch battered wife whose son was caught up in a secretive kids' fight club and whose husband was a cretin. The writers didn't make the mistake of sculpting the entire episode around her character, a la Dita on CSI, but they did let her play up her best assets: playing the troubled tough chick with a dark secret, much as she's already done on The Sopranos, Desperate Housewives and Sons of Anarchy. It was a decent whodunnit, well-acted (her son, played by Al Calderon, hit all the right notes), and held together in its usual style, staving off its usual austerity with a touching storyline about a dead child. Adding to the episode's star power, Oscar-winner Olympia Dukakis played an attorney in the courtroom segment of the show.
-TimeOut