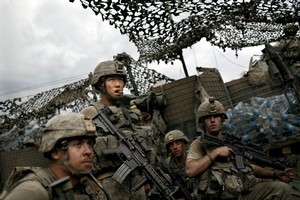 The Korengal valley lies in the remote, mountainous reaches of the north east of Afghanistan, just a spit from the border of Pakistan. The valley is quite beautiful in its way. It's surrounded by steep, chaotic walls of rugged, scrubby, unfinished ridges and peaks. Its bottom is narrow and verdant. There are villages that must have been there for millennia. It's scenic and ancient but, though I've been there twice now, I don't want to go there again.
My first visit was last year when I read American journalist Sebastian Junger's War, a shortish book about life at the sharp end of George W. Bush's "War on Terror". Junger (author of the much-praised The Perfect Storm) and British photographer Tim Hetherington spent a year there with a platoon of US soldiers who had been deployed to the Korengal, dubbed by someone as "the valley of death", for 15 months back in 2007-08.
From that experience, Junger wrote a book that is a moving and gripping, but also a confusing and confounding insight into what it means to be at war and, I suppose, to put it in the parlance of those young men, what it means to be a warrior.
I couldn't put it down; it was the best thing on the subject I'd read since Jarhead.
My second visit to the valley was last week and it was by pure chance. While flicking around I happened to notice - it was a million-to-one chance given the number of channels now on Sky, my viewing habits and impatience - that the book's companion documentary, Restrepo, was screening on a Sky channel I almost never watch, National Geographic.
It has occurred to me that while there is (to wail the eternal wail) "nothing on television", there is also a hell of a lot of television. But, even with something as handy and essential as MySky, it is still very difficult to find what you might want to watch (even in this vaunted age of all-seeing-all-knowing technology) if you don't already know something is on, or you aren't prepared to invest potentially large amounts of time trying to find what is you might want to watch and when it might be on. That's slightly confusing. What I mean is this: I'd read Junger's book, I knew about this 2010 documentary, but there was no way for me to find out (because, sue me, I'm not prepared to spend hours reading television listings every month) that it was finally screening. I suppose what I really want is not broadcast TV at all but an internet-based delivery system for TV that (legally) allows me to find what I want, when I want it by using something like a Google search. Roll on that.
But back to the Korengal. Restrepo is a simple documentary. It has no voice-over. It has no agenda, at least not overtly. You might even say it has no story, either. It is purely, well almost, a fly-on-the-wall document of what it was to be in valley at that outpost - OP Restrepo was named for a popular soldier who died early in the platoon's deployment - with those men back in 2008.
There is the boredom of cleaning weapons, smoking, entertaining visiting brass and waiting for something to happen. There are the simple joys of picking guitar, shooting the shit or patting a stray-but-befriended dog. There is the fog of war as insurgents fire - sometimes seven or eight a day - into the makeshift Restrepo compound.
And there are stark, gut-wrenching moments of honesty. A disbelieving soldier crying - despite the fact he and his mates are still under the threat of attack - when he learns a friend is dead. "Is it bad?" he asks plaintively. "It was quick," says another.
Then there is Steiner, who can't contain his excitement after a firefight. "That was fun. You can't get a better high. It's like crack ... once you've been shot at ... you can't top that." "How are you going to go back to the civilian world then?" asks Hetherington, quietly and off camera (it's the only time you hear him or Junger at all).
"I have no idea," says Steiner, shaking his head.
Restrepo is a must-see for those wanting a small, uncomfortable taste of what the hell it means to be fighting a losing and largely pointless war. So you should see it - if only you could know when it is on.
Hmm. Well I'll do you a favour. Sky tells me it will rescreen Restrepo on April 1 at 10am on National Geographic channel. No, no need to thank for me saving you the time to find out what you really wanted to watch.
-TimeOut