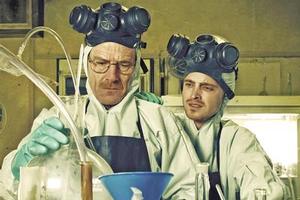 Best opening scene award goes to Breaking Bad, which started its second season on C4 on Monday night.
Shot in black and white, the camera panned across various items of outdoors domestic junk, before settling on to a pool, and something small, round and white bobbing along in the water. It was an eyeball ... the eyeball of a saturated teddy bear badly singed along one side. An omen of things to come.
Cut to Walt, the cancer-ridden chemistry teacher turned crystal meth maker to provide for his family after he's gone, looking gaunter than ever as he met his frightening new buyer in a car graveyard. Walt is dealing with the devil in the person of Tuco, who not only has an enormous appetite for meth but for extreme violence as well. Walt and his "assistant", young Jesse, watched in horror as Tuco kicked one of his own men to death for no reason at all.
They were now witnesses to a murder.
Back at home, Walt's pregnant wife Skyler was having trouble coping with Walt's absences, his anxiety and refusal to talk.
She's not talking to her shoplifter sister Marie either, in a neat plot counterpoint because Marie is married to DEA agent Hank. At work, Hank laughed as he watched footage of two "amateurs" (one of whom was his brother-in-law but he doesn't know that) break into a chemical storehouse. Later, when Hank gleefully texted Walt and Jesse a gruesome photo of two bodies - Tuco associates - at a car graveyard, they knew they were next and the paranoia levels went flying off the scales.
Walt told Jesse to get out of town now, then shot back home because he was fearful for the safety of his family. In a heart-stopping moment, Jesse arrived at Walt's place in his car. "Why the hell are you here?" screamed Walt. Because Tuco was in the back seat with a gun pointed at Jesse's head. And so all three drove off into the night, the mood of doom so extreme my hair turned figuratively white. What a cliffhanger.
Breaking Bad was outstanding in the first series, and this one looks even more gripping, if darker: complex, nuanced, totally believable. As for Bryan Cranston, who plays Walt and directed this episode, he is truly sublime. The mystery is: why is it on C4? It deserves a wide audience.
An adaptation of John Buchan's gung-ho spy novel The 39 Steps started out well enough on TV One on Sunday. Rupert Penry-Jones looked the part as Richard Hannay, the English gent turned breaker of a German plot to destroy Britain's Navy on the eve of World War I. RPJ had some nice pompous lines like, "No one should involve themselves in intelligence work without a good breakfast". But it sagged badly in scenes with young suffragette Victoria Sinclair.
The silly sequence when the two changed into their PJs while the camera lingered on RPJ's naked torso went on for so long, I had to look away. RPJ is okay to look at, but he's bland. You could never say that of Walt.