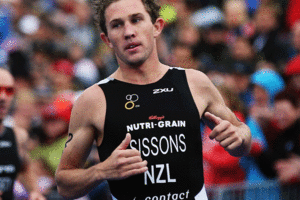 Ryan Sissons was the best of the New Zealanders in 10th at the final ITU World Cup triathlon of 2013 in Tongyeong, Korea, today.

He came home one minute 12 seconds behind winner Tony Moulai of France, with Auckland's Bryce McMaster 14th.

Sissons was in the large chase group on the bike, which also included Moulai, but lost contact with the leaders early on the run.

Simone Ackermann finished 12th and Rebecca Clarke 14th in the women's race. Both were among a lead group of seven on the swim and run legs but struggled to match the pace on the run, particularly that of Emma Jackson of Australia who finished nearly 90 seconds ahead of the rest of the field.

Maddie Dillon finished 19th in her second standard distance event.

The race marks the end of the season for the New Zealanders, who will soon begin preparations for next year's international campaign that has the Glasgow Commonwealth Games as one of the key pinnacle events.
- APNZ