Opotiki's Motu Trails are a dream for nature lovers and suitable for first-timers and old hands, writes Conor MacHugh.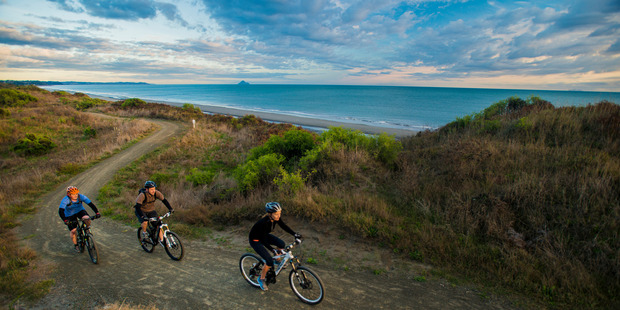 Opotiki's main street is country-town cute: old pubs and deco buildings, antiques and op shops - and barely a soul in sight. The sun is shining and She Who Knows Not Cycling is keen to get under way on her first mountain bike journey.
We're here to complete the Motu Trails, part of Nga Haerenga, the New Zealand Cycle Trail. The three-stage trails consist of the Dunes, a track running east along Opotiki's long beach; the old Motu Coach Rd; and the offroad Pakihi Track. We plan a 90km loop of all three over two days, staying in the DOC hut halfway along the Pakihi Track.
We pass through town and over the bridge that begins the trail, meandering just behind the beach. Soon we are forced on to the beach where surfcasters smile and lift their lines for us to pass. In the distance, blue ridges jumble behind each other south into the Raukumara Range.
After 11km we leave the dunes and roll briefly along State Highway 35, winding around East Cape to Gisborne.
We branch off south on to the Motu Coach Rd, opened in 1918 after five years of pick and axe.
Soon after the tarmac stops we come to the first real challenge - 10km up Meremere Hill. I drop down a gear and deliver a wheezing monologue featuring rhythm, grit and the spirit of the great Tour de France mountain stages. I look back to see She Who Will Not Be Rushed walking serenely. So we continue, savouring the bush and birdsong.
Wonderful, but slow - and then we hear the only engine in hours. A ute sidles up to us and bikes are swiftly in the tray. Bernie and Linda are real back country - burnished and weathered and pure hospitality. They have a spare bunkroom of course, in the woolshed that became their farmhouse after a fire back in '96.
Skeletal machinery and tractors from another era litter the yard where Bernie gives the dogs a run. The woodbox on the old range is fired up and as night closes we are sitting at the kitchen table drinking strong tea. We produce our designer camping food. "You can put that back where it came from!" chuckles Bernie. Dinner is mutton and three veg, with thick gravy and more tea.
Then the stories begin. They are of the land, of floods and rescues, of hunting, bush and weather. Most of them delivered in torrents of laughter and overlapping exclamation ... "painted up like a cannibal, stepping over cow-shit - in high-heels!" crows Bernie ... "Ahhhh," Linda sighs decrescendo ... "Crackup!"
We bed down in our sleeping bags in the bunkroom, the door open to a wall full of pig's jaws, antlers and antique tools.
Next morning, there is tea again as the mist slowly leaves the valley and our porridge is welcome warmth. We are treated to another ride to the top of Papamoa Hill and after fond goodbyes we ride downhill to the start of the Pakihi Track, a 20km downhill run through mature, pristine native bush.
We begin through a corridor of wind-stunted trees and drop down the side of a long ridge through thick punga and rimu. The track is metal and the gradient easy, though classed as advanced due to the steep drop-offs to our left, which offer green vistas out across the valleys. As we wind down the ridge the sound of our brakes competes with bellbirds, tui and the stream far below.
At the Pakihi hut we decide to cook our designer lunch, more for a chance to linger in the bush than any real hunger. From there we stay in sight of the stream and eventually cross swing bridges to put it on our right, looking wistfully at the deep, cool swimming holes of summer. The late afternoon light splays through a loose canopy across the stream and back up the dappled valley.
Freewheeling becomes pedalling along a flat track until we emerge on to a gravel road, still 20km from Opotiki and too late in the day to bike back. A few minutes down the road and the first lights we see are from the Riverside Lodge, an empty backpackers with hot showers and a manuka logfire.
Next morning we're up with the sun and decide we can ride without breakfast. After two days in the saddle, I can sympathise with She Of Aching Bones, but sunshine and flat tarmac make for an easy ride down the river toward cellphones and coffee. Opotiki is bustling on a Thursday morning and Two Fish Cafe provides good food and the all-important java as we smugly reflect on two days well spent.
CHECKLIST
Details: The Motu Trail ride can be started in Opotiki, in the Eastern Bay of Plenty. Bikes can be hired locally from $30-$65 a day. Shuttles to Motu Rd and Pakihi trails cost $55-$65pp. Stay overnight before you start from $25pp. For details, go to motucycletrails.com.
Online: nzcycletrail.com; opotikinz.com