Megan Singleton shares some tips to make long-haul flights more bearable.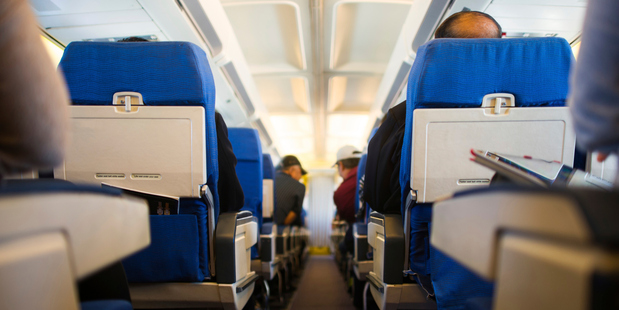 So you've bought a cheap-as-chips flight to the US or Europe. In other words, you're down the back in cattle class and already dreading it.
Here are some essential items I never leave home without when folding myself Houdini-style into a seat to fly 12 hours in economy...
1. Neck pillow
Once you've gone squishy you'll never go back. Don't mock the traveller (because it's probably me) with their neck pillow fastened to the handle of their cabin bag as they wheel through the terminal. This is essential long-haul wear and can be picked up for a song at a dollar store. Wear them back-to-front under your chin to stop your head bouncing forward for sleeping. You can thank me later.
2. Slippers
I always pack a pair of light-weight slippers into my cabin bag. Those ones you get from fancy hotels are ideal. There are two reasons for this:
• My feet are let loose from my boots, which I'm wearing to take up less suitcase space.
• I will never wear my socks into the toilet as that floor doesn't stay dry for long.
3. Pashmina
A pashmina is very versatile. Wrap it around you as a blanket for sleeping, scrunch it up to make a little windowsill-sleeping nook, wear it as a scarf to board and disembark. I could go on - use it as a sarong by the pool, a picnic rug on a beach. You get the picture.
4. Kindle
Save yourself the weight of packing several books by downloading them on to your reading device. In my case, it's a Kindle. Bestsellers go for about $12. You charge them with a USB cable which is fitted in more economy seats these days too. Just remember to turn it off for takeoff and landing before you get told off.
5. Earplugs
Essential for blocking out the noise from engines and screaming babies. My favourites are the silicon ones which you warm up in your hands and mould into your ear. They're also good to have for hotels as you never know if you might have a roadside room or - ahem - noisy neighbours.
For more from Megan, see bloggeratlarge.com.