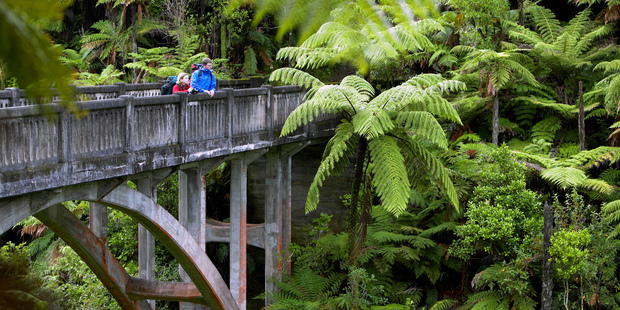 Golf carts on old railway lines - a crazy but true adventure that enchants every visitor. Chug along at 20km/h from Whangamomona (90km from Taumarunui, or 60km from Stratford) through the full-day Twenty Tunnel Tour (there's also the Rail and River Run, The Republic Rail Picnic or The Ultimate) - dense bush, picturesque places, hearty food and great guides.
Many of the small towns around the Central Plateau have quirky horse-riding and trekking adventures, from overnight to short trips, some over the winter too. Be honest about your horse-riding abilities so you're matched with the right pony to make a happy rider.
The three-day canoe journey on the Whanganui River is legend, but you can also get a jet boat to the Bridge to Nowhere and kayak back down in a day for the best of adrenalin and peaceful paddling. But if you can make time for the 87km three day/two night guided paddle from Whakahoro to Pipiriki, you'll be awed by waterfalls, caves and tales of the legendary past.
4. Take a hike
You may have driven past Ruapehu's astonishing wild landscapes, but seeing them on foot is something else. At this time of year, it is best to stick to well-worn year-round paths (or ask for guided tours). Try the Ohakune Old Coach Road - get a shuttle to Horopito, hike 10km downhill to Ohakune, the bulk of it still in old cobblestones. Watch out for the bikers doing the Nga Haerenga trail and enjoy the peek into rail history - viaducts, tunnels, the works.